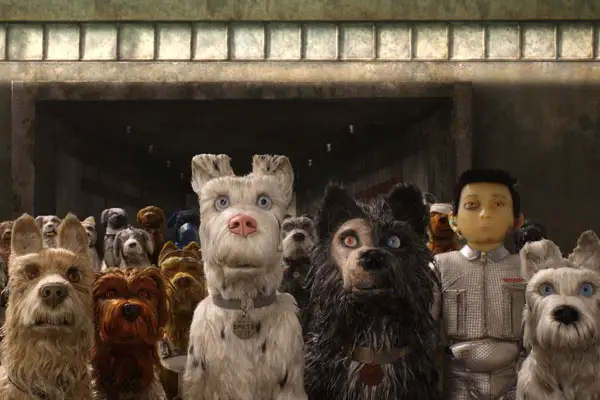 Wes Anderson's latest stop-motion film, Isle of Dogs, is a love letter to pooches everywhere. It'll make you one want to dash home and play and give your dog all the love that they deserve or it'll make you want to rush out to your local shelter and adopt a furry new buddy.
Set in the Japanese city of Megasaki, an outbreak of canine flu has suddenly taken over the city. Mayor Kobayashi decides to round up all of the city's dogs and banish them to a garbage dump called Trash Island. One by one, they are left to fend for themselves and, eventually, they form a society and learn to survive.
Years later, a young boy named Atari (Koyu Rankin) secretly makes his way to the island in search of his best friend, Spots (Liev Schreiber). A pack of strays, including Chief (Bryan Cranston), Rex (Edward Norton), Boss (Bill Murray) and Nutmeg (Scarlett Johansson) find him and come together to help the determined youngster on his quest.
Meanwhile, on the mainland, an American foreign exchange student, Tracy (Greta Gerwig), discovers that the canine flu was just one big hoax. Atari's uncle, Kobayashi, who descends from a long line of cat lovers, put the evil plan into place to get rid of all the dogs and make cats the household pets.
Anderson's style of stop-motion animation takes a bit to get used too. It's more choppy than, say Laika's films (Kubo and the Two Strings), but after a few minutes, that choppiness actually makes the story feel more like a true fable, something that your grandmother would have told you when you were a child. It's got that home spun quality to it, with characters that are familiar but still new. That newness is mostly brought on are the voice acting work. The actors aren't trying to hide their familiar voices in a cartoony sound. You'll immediately know who most are as soon as the characters open their mouths. That quality of making everything (except the animation itself) sound real, is why it feels like a story handed down from grandfather to grandson and from family to family.
If the ASPCA hasn't found a way to co-opt this film, they should because, hopefully, this will spur on some desperately adoptions.