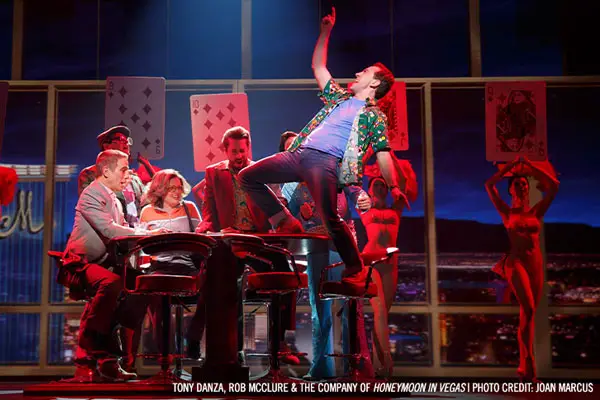 UPDATE: If you type HONEY1 while purchasing Honeymoon in Vegas tickets here, you can save up to 40% off regular prices through April 30.
Honeymoon in Vegas, which opened on Broadway on January 15, isn't the type of musical that normally would be on my radar because Broadway musicals based on movies can be extremely hit-or-miss (Honeymoon in Vegas is adapted from the 1992 movie written and directed by Andrew Bergman, who also wrote the book for the musical). However, Honeymoon in Vegas has a few notable things going for it – first, it stars the criminally underrated Rob McClure, whose last Broadway role was the starring role in the gone-too-soon Chaplin. Second, it features music and lyrics written by Tony Award winner Jason Robert Brown (Parade, The Last Five Years, and The Bridges of Madison County). Finally, it also stars Tony Danza in the role originated by James Caan in a movie. Really, what's not to like about seeing Tony Danza live? He's more of a crooner than a singer of course, but he's got great on-stage charisma and you know your mother and grandmother both have crushes on him (and I got a good laugh out of his bio in the Playbill that says "Tony Danza is perhaps best known for 'Taxi' and 'Who's the Boss?'" I think that "perhaps" is unnecessary).
The story is pretty simple: Jack Singer (McClure) and Betsy Nolan (Brynn O'Malley, who is a knockout and the best singer in the show) are two New Yorkers who decide to get married in Las Vegas to try an escape the curse that Jack's mother (Nancy Opel) put on him on her deathbed if he ever got married. When they arrive in Vegas they encounter hustler Tommy Korman (Danza), who is stuck by the resemblance between Betsy and his dead wife. Korman conspires to derail the wedding between Jack and Betsy and win Betsy over by numerous nefarious means while Jack attempts to break his mother's curse.
Brown's lyrics are often hilarious, including "Out of the Sun," which has to be the funniest (and only?) song about skin cancer ever written. The all-Elvis and Elvis covers soundtrack from the film is missed, but Brown has done a fantastic job of writing chintzy-sounding Vegas lounge act songs that sound great when played by the production's top-notch orchestra.
The best way to really describe Honeymoon in Vegas is that it delivers mostly what you'd expect from a Broadway musical these days: slickly-produced and completely satisfying presentation, great songs that will appeal to everyone, a big-name star to draw audiences, and two extremely talented leads who carry the show. It's the virtual definition of a crowd-pleaser, and it definitely deserves a lot more attention from the tourist crowds who typically gravitate to the old standbys. I mean, you're not going to see Tony Danza tap dancing in The Lion King, are you?
For more information about Honeymoon in Vegas, check out the show's website, Twitter, Facebook, and Instagram.