Movie Review: 'Solomon Kane'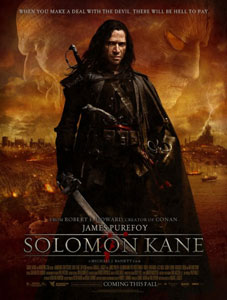 I'm a sucker for a sword & sorcerers movie. Good or bad, I've probably watched them all. If you're a fan of the genre like I am, you can add Solomon Kane to your watch list.
While it's no classic, it is fun – if your idea of fun is be-headings, guttings and monsters that burst out of mirrors and grabbing the closest person for a grizzly death. And yeah, that is my idea of a good Saturday night.
The film stars James Purefoy as Solomon Kane. When we first meet him, he's one mean, evil piece of work. He shows no mercy to his foes and with a smile on his face, you know he loves what he's doing. But, towards the end of the opening battle, he comes face-to-face with one of the Devil's (is Devil capitalized?) soldiers who nearly helps Kane parts ways with his head. It seems that Kane is so evil that the Devil wants him in his kingdom. Well, having the Devil want you will put a thought into your head, even the most evil of 'em, and Kane escapes.
A year later, he's now living with a group of Priests and he's a changed man, having renounced his past. Forced by the Priests to leave and find his true destiny, Kane finds himself with a peaceful family… and ultimately avenging them.
Kane was filmed way back in 2009. I remember the studio showing a preview at Comic-Con in 2010 and it got a pretty good response from the crowd. After that, I never heard about it again. I'm not sure what the delay was because the film certainly isn't the mess that you'd think it'd be for sitting on the shelf for so long. The only thing that hurt it for me was watching Pete Postlethwaite, who died last year, in action. He's great in the film, as expected, but watching him alive and vibrant just bummed me out.
There are a few cliched moments and the scene where Kane is forced back into his evil ways is a bit hokey, if you are looking for a good medieval tale, you can't go wrong with this.
http://www.dailyactor.com/wp-content/uploads/2016/04/jake-gyllenhaal-demolition.jpg
Jake Gyllenhaal on 'Demolition', Working with Chris Cooper and Directors Who Want Nothing to Do With Him
"I think storytelling is the most important part of movie-making over performance." - Jake Gyllenhaal
http://www.dailyactor.com/actors-on-acting/jake-gyllenhaal-demolition-chris-cooper/
http://www.dailyactor.com/wp-content/uploads/2016/04/don-cheadle-miles-davis.jpg
Don Cheadle: "Be scared. Be on the edge of your creativity"
"Be willing to fall flat on your face and be in an unknown place. If you're doing that, you're probably growing" - Don Cheadle
http://www.dailyactor.com/actors-on-acting/don-cheadle-scared-creativity/
http://www.dailyactor.com/wp-content/uploads/2016/04/jessie-eisenberg-louder-than-bombs.jpg
What is Jesse Eisenberg's "Most Fulfilling Acting Experience"?
"My absolute favorite thing to do is to write a play and then, after I finish, do the first reading of it with my friends around the table"- Jesse Eisenberg
http://www.dailyactor.com/actors-on-acting/jesse-eisenberg-most-fulfilling-acting-experience/
http://www.dailyactor.com/wp-content/uploads/2016/03/Lupita-Nyong'o-eclipsed.jpg
Lupita Nyong'o on Her Broadway Debut: "When we get up on that stage, you do not know what will happen"
"I think theater offers a chance to flex muscles that then only help to sustain cinematic work." - Lupita Nyong'o
http://www.dailyactor.com/actors-on-acting/lupita-nyongo-eclipsed-broadway/
http://www.dailyactor.com/wp-content/uploads/2016/03/jake-gyllenhaal-demolition.jpg
Jake Gyllenhaal on Missed Superhero Opportunities and Portraying "Antisocial" Characters
"I've always wanted to have the opportunity to play a number of different roles, and I knew it wasn't necessarily the role, but how you played them" - Jake Gyllenhaal
http://www.dailyactor.com/actors-on-acting/jake-gyllenhaal-antisocial-characters/