Matthew McConaughey on 'Killer Joe': "I remember throwing the script in the trash and saying I don't want to be any part of that world"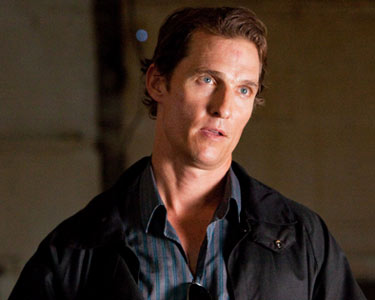 Those that know me well know that my all-time most hated movie is The Wedding Planner.  I was stuck seeing that movie on two separate dates before I learned it's perfectly acceptable to tell a girl "no, I'd prefer not to see a Jennifer Lopez movie."  As much as I dislike the movie, I hold no ire toward Lopez's co-star Matthew McConaughey, although I never thought much of him as an actor because of his tendency to star in romantic comedies and awful action movies (though he is awesome in Dazed & Confused, one of my favorite films).
But in 2012 I have been nothing but impressed by McConaughey in films like Bernie and Killer Joe, which comes after a successful 2011 for the actor and a break from acting from 2009-2010. 
In fact, McConaughey credits his recent success with taking this break, telling NPR's All Things Considered, "I was like, 'Let's just hold off, McConaughey. Let's sit back and see if something comes and intrigues me that I do not feel like I could do tomorrow — that I feel like I could do it, but I got to go to work and figure out how I can do it.  And as the world works in that wonderfully cyclical way, I started to attract exactly what I was looking for. I met with Richard Linklater about Bernie, and I get a call from [Killer Joe director] William Friedkin and we have a meeting. Steven Soderbergh calls for the first time, Lee Daniels, Jeff Nichols. However that works, it was about a year-and-a-half or two-year period, and these were the things that I was attracting. Very independent and singular-minded directors and very singular-willed characters that were — no placation or pandering to society or anyone's rules, really, but their own."
His role in the NC-17 rated Killer Joe is by far the darkest in his career (but, after seeing it, also his best).  He admits that at first he wanted little to do with the film, revealing, "I read it and I did not get it the first time I read it. I actually thought it was despicable. I remember throwing the script in the trash and saying I don't want to be any part of that world.  The second read of this, I found myself finding the small chuckles. I started to laugh kind of hard in places. And that was the light that revealed the humanity of the character for me, and also the meter of [Pulitzer Prize winner] Tracy Letts' writing."
So is this the end of the McConaughey of How to Lose a Guy in 10 Days and Ghosts of Girlfriends Past?  McConaughey admits he's not ready to say for certain.  He explains, "I wouldn't say I'm done with the romantic comedies. But what I'm doing right now, I'm feeling the experience of the work. The last five films, which I did back-to-back-to-back-to-back-to-back, I didn't have one day where I even had 60 seconds of complacency.  Every single day, I'm fortunate to say I got out of bed a little nervous and very excited about the work at hand. I never got bored. That's a goal to get there that does not happen with all the characters I've ever played, but that's always been the goal. And that was the goal that I learned from the very first film I ever did, Dazed and Confused. I've been able to have that feeling. I had it with Killer Joe. If I can work to get to that place and find characters where I can understand the identity as well as I've understood the identity of these guys I've been playing, that would be just peachy."
Killer Joe is now playing in limited release.
http://www.dailyactor.com/wp-content/uploads/2015/05/Caitriona-Balfe-Outlander.jpg
Outlander's Caitriona Balfe On The Emotional Toll of Filming Violent Scenes
"Having to put yourself in that place is tough. To sit in that emotional space, especially when you're doing it day after day." - Caitriona Balfe
http://www.dailyactor.com/2015/05/outlander-catriona-balfe-emotional-toll-of-filming-violent-scenes/
http://www.dailyactor.com/wp-content/uploads/2015/05/Chrissie-Fit.jpg
Chrissie Fit on How She Landed Her Role in 'Pitch Perfect 2′
"I remember getting the audition and being like, "This might not happen," just because it is such a massive movie." - Chrissie Fit
http://www.dailyactor.com/2015/05/chrissie-fit-on-how-she-landed-her-role-in-pitch-perfect-2/
http://www.dailyactor.com/wp-content/uploads/2015/05/Sam-Elliott.jpg
Sam Elliot on How he "F–ked" Himself Out of a Career as a Lead Actor
The rugged Sam Elliot has most often cast in character actor roles throughout his long career in film, though the 70 year-old Elliot thinks it wasn't always meant to be that way.
http://www.dailyactor.com/2015/05/sam-elliot-on-how-he-f-ked-himself-out-of-a-career-as-a-lead-actor/
http://www.dailyactor.com/wp-content/uploads/2015/05/Anna-Kendrick-Pitch-Perfect-2.jpg
Anna Kendrick Talks Hollywood and its Gender Bias
"As an actress you're perpetually about to be unemployed." - Anna Kendrick
http://www.dailyactor.com/2015/05/anna-kendrick-talks-hollywood-and-its-gender-bias/
http://www.dailyactor.com/wp-content/uploads/2015/05/tom-hardy-mad-max-fury-road.jpg
Tom Hardy on Fame, Acting School, and His 'Mad Respect' for Michael Fassbender
"Do what you love doing, do it well—everything should fit into place." - Tom Hardy
http://www.dailyactor.com/2015/05/tom-hardy-fame-acting-school-michael-fassbender/