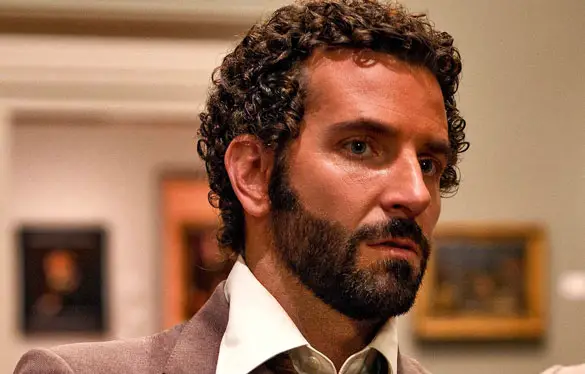 American Hustle has become one of the most celebrated movies of the 2014 Oscars season. The film has garnered Bradley Cooper his second Oscar nomination after working with director David O. Russell again.
The 39-year-old actor spoke with the Los Angeles Times about working with the talented director and the inside scoop on that curly hair he sported for the film.
The hair has become one of the most iconic looks from the film. Cooper explained how the whole hairstyle came together, "We tried a lot of wigs, and I just looked like somebody from the Three Stooges. And then we curled the hair one day [with curlers] because, to perm it, it would've been a bit permanent if it didn't work. So we put 110 curlers in, and then I sat underneath a heat lamp for 45 minutes on each side, and then it was moved. The whole thing was three hours. And we sort of loved what it did, and we thought, 'Let's not mess with it, let's just do that,' but not really thinking that, 'Oh, that means I'll have to do it every single day.'"
With the hair in place, The Silver Linings Playbook star knew that working with Russell again was quite a gift.
He said, "The umbrella thing would be that I know that when I come out of this experience, I'll be a better actor. Probably I will have grown as an actor in every way, and knowing that when you're going into it gives you a sense of willingness to go as far as he wants you to go, and that's a very seductive thing for a director to feel from his actors. And it's also a very empowering thing for an actor to feel, because you really know that the sky's the limit on what the product could be at the end."
While he understood how far his skills were going to be stretched working with Russell, it was a hard process.
"I would say none of it's easy, and I think that's why maybe not everybody makes movies like this, because it does demand that you leave your ego at the door. And some days, you know, you don't want to be open, really. But that has to go away very fast, and you have to be willing to fall on your face in front of the crew on rehearsal. You just have to really be open to the process…. That said, it's not anarchy at all. I mean, it's a very specific script and story…. He just wants you to be open to his way of telling this story," shared Cooper.
The 86th Annual Academy Awards will be handed out on Sunday, March 2.