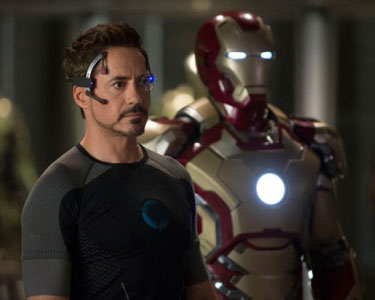 Though now it seems that it would be wrong for anyone else but Robert Downey, Jr. to play Tony Stark, when Iron Man was going through casting Downey was only a few years removed from a very public battle with drug addiction and hadn't been a high profile name in even longer.  He spoke to GQ about how he landed the role despite strong resistance on the part of Marvel Comics and how long he thinks he'll be starring in movies as Marvel's Armored Avenger.
When he heard about the film being in production Downey was convinced that the role should be his, even after Marvel passed on him — in fact, director Jon Favreau recalls that Marvel told him, "Under no circumstances are we prepared to hire him for any price."  On his pursuit of the role Downey confesses, "I don't know why. I do like a bit of Jung, and it was just this kind of numinous thing."  When his persistence was rewarded with the opportunity of a screen test, he went into an extreme preparation process, which he refuses to detail besides immersing himself into the script.  He explains, "The missus says she could've woken me up in the middle of the night and I'd have recited the audition dialogue in double time."
His goal was to dispell any doubt and outshine any other actor auditioning.  He says, "It was all shock, awe, conquer—it was about devastating the competition.  Right before the first take I felt like I almost left my body—a sudden surge of nerves.  Then, all of a sudden, it was like coasting downhill on an old Schwinn Cruiser, like I could do no wrong." The results were so perfect that the "under no circumstances" eddict crumbled.  Several years later, Iron Man 3 marks the fifth time Downey is appearing in a movie as Tony Stark.
Downey is signed to appear in the role at least one more time in The Avengers 2, but what about moving forward?  Despite being committed to the role, Downey is convinced he won't be able to suit up as Stark forever.  He explains, "How many genre movies can I do? How many follow-ups to a successful follow-up are actually fun? Because, as quiet as it's kept, I come from a family of very innovative writers and directors and actors and artists, and the circle of friends they were in were the people I heard having pun-offs playing poker at two in the morning, and it was just the most comforting aspect of my childhood. So there's this kind of legacy of souls from what I consider to be a very particular time in entertainment, and I'm sensing a return to that—it's what me and the missus are doing next. It's not unlike: I heard [Patriots quarterback Tom] Brady signed on for three more years with New England, and then he's done being a QB, because he'll be 40. I'm 47, and I'll be 50."
When asked if he would really walk away from a lucrative deal to do more Iron Man sequels, Downey responds in a roundabout way that gets into his feelings on the quality of movies in general.  He says, "Here's the thing. At whatever point I'm done with this, I'm going to have a bit of a crisis, because I probably haven't even fully ingested how much I've enjoyed it, how much it's meant. It so came out of kind of relative obscurity as this second-tier character from the Marvel universe, and I feel I was part of making it something more. But it also to me was just good filmmaking. It's funny, people will come up to me and go, 'Dude, how do you do it? How do you dress up and play these…?' While whatsisname is shooting the next David O. Russell or whatever, I'm, 'Here's the thing, you're either having a good time or a bad time, and you're either doing a good movie or a bad movie.' And I know one thing, which is that there is no guarantee that doing a movie you think is 'important' isn't going to be the worst piece of tripe I've ever had to sit through. Or that this kind of two-dimensional genre movie I'm doing isn't actually going to be thoroughly entertaining. Isn't that why you went to the movies to begin with? Whatever."