SXSW Review: 'God Bless America'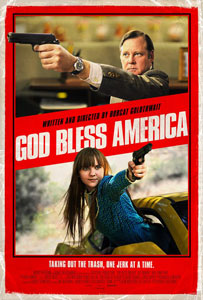 I went to hell on earth to watch this film. Ok, not exactly hell on earth, but it was own personal hell on earth.
I had just finished up a film here at SXSW, the newest Bobcat Goldthwait film, God Bless America, was screening on the other side of town and I really wanted to see it. It was raining and finding a cab was almost impossible. I say almost, because I eventually found one. I told the cabbie where to go and when we were almost there, I pulled out my beloved and well used credit card. He told me that his machine wasn't working and I needed cash.
So, we then proceeded to go to 5 different gas stations, liquor stores and 7-11's to find a working ATM. Finally, after a half hour later, I got the money and was dropped off at the theater where thankfully, the screening was running a bit late.
I was mad and rain-soaked but at least I as there.
And little did I know that this whole mess would put me in the total frame of mind for this film.
God Bless America is Writer/director Goldthwait at his potential best. The film is about a divorced and disillusioned middle-aged man named Frank (the great Joel Murray), who has just lost his job and received potentially the worst news anyone could be told: "You have inoperable cancer."
He comes home, picks up a gun and just as he's about to pull the trigger, he spots on TV everything he hates about the world today: Reality Television and the downward spiral of America. With nothing left to lose, Frank sets out on a violent crime spree to rid the world of the rude, the obnoxious and the crude of America and it's so called "stars." Along the way, he teams up with a teenage girl (Tara Lynne Barr) who shares the same attitude  and the two leave a bloody trail of bodies as they make there way to their one last big bang.
The film gives the proverbial finger to everything that is celebrated in Reality TV. From the badly misbehaving stars, to the judges to how people worship these talentless people. It's like Goldthwait has seen the future and our future is Idiocracy.
One reason I like Goldthwait's movies is that he always has a voice and vision. He doesn't do film by committee like so many other films, even indies. And this is no exception. God Bless America is at it's best when
Joel Murray is great in his first starring role. Frank is an everyman who is fed up with the world, his life and his situation. He can't do anything to dig out of the whole and when he get the news that he is going to die, it is almost like a relief to him. The weight of the world lifts from his shoulders and he's almost like a new man. Yeah, he's killing people left and right, but it's the new Frank doing it. Murray has always been fun to watch I think and here, that's no exception. He's got some major dialogue and monologues (one was 3 pages he told me in an interview I'll post soon) and you just feel his pain and frustration as he's talking. Hopefully, this will lead to more roles for him.
Barr is a relative newcomer and while her Roxy is at times a little too eager to kill, she plays the wide-eyed youth/sometime instigator part very well.  
The film is definitely entertaining and if you hate Reality TV as much as I do – and Goldthwait – you'll definitely enjoy the film.
Latest Videos
http://www.dailyactor.com/wp-content/uploads/2014/09/watch-david-mamet-in-the-1976-sh.jpg
Watch: David Mamet in the 1976 Short Documentary 'The Playwright Directs'
Though David Mamet is best known for his distinctive writing style in his scripts for the stage and screen, he has also directed theater and film. The 1976 short documentary titled The Playwright Directs depicts Mamet directing actors through several scenes at an almost frantic pace, dispensing pearls of wisdom throughout, like his thoughts on […]
http://www.dailyactor.com/2014/09/watch-david-mamet-1976-documentary-the-playwright-directs/
http://www.dailyactor.com/wp-content/uploads/2014/09/watch-marvels-agents-of-s-h-i-e.jpg
Watch: Marvel's Agents of S.H.I.E.L.D. Season 1 Bloopers
Forgetting lines? Corpsing? Delivering lines in Spanish? Unruly props? All in a day's work on the set of Marvel's Agents of S.H.I.E.L.D, apparently. Clark Gregg, Ming-Na Wen, and the rest of the cast find plenty of humor while playing super-serious secret agents in the Marvel Universe. While you're waiting for season 2 of the series […]
http://www.dailyactor.com/2014/09/watch-marvels-agents-of-s-h-i-e-l-d-season-1-bloopers/
http://www.dailyactor.com/wp-content/uploads/2014/09/audtion-tapes-robin-wright-and-h.jpg
Audition Tapes: Robin Wright and Haley Joel Osment Audition with Tom Hanks for 'Forrest Gump'
Check out Robin Wright auditioning for the role of Jenny from Forest Gump opposite Tom Hanks. Interestingly enough, Hanks doesn't quite have Gump's southern drawl down just yet while the other actors audition with him. In fact, Hanks would base Gump's voice on the voice of Michael Conner Humphreys, who played the young Forrest and […]
http://www.dailyactor.com/2014/09/audtion-tapes-robin-wright-haley-joel-osment-tom-hanks-forrest-gump/
http://www.dailyactor.com/wp-content/uploads/2014/08/bryan-cranston-emmy-award-speech.jpg
Watch: Bryan Cranston's Emmy Award Speech: "I love to act. It is a passion of mine and I will do it until my last breath."
The Emmy Awards weren't the most exciting awards show this year but with Bryan Cranston winning for Outstanding Actor in a Drama for Breaking Bad, we at least got to hear one heck of a fantastic acceptance speech. "I was a kid who always looked for the shortcut," he said. "I did happen to stumble […]
http://www.dailyactor.com/2014/08/watch-bryan-cranston-and-aaron-pauls-emmy-award-speeches/
http://www.dailyactor.com/wp-content/uploads/2014/08/audition-tapes-gerard-butler-aud.jpg
Audition Tapes: Gerard Butler Auditions for 'Dracula 2000′
Check out Gerard Butler auditioning for the role of Dracula in the movie, Dracula 2000. The film, about a group of thieves who break into a chamber expecting to find paintings, but instead find Dracula himself, also starred Christopher Plummer, Jonny Lee Miller and Nathan Fillion. Bulter has some sweet rock star hair, huh?
http://www.dailyactor.com/2014/08/audition-tapes-gerard-butler-dracula-2000/