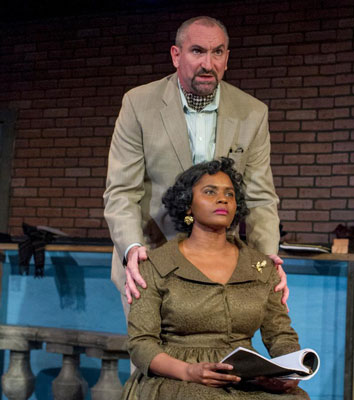 One common thread that has run through every show I've seen at MOXIE Theatre is their excellent casting. With their latest play, Alice Childress' Trouble in Mind, that through line continues with a pair of powerhouse performances by Monique Gaffney and Ruff Yeager.
A little backstory first: The actual play could probably make a great piece of theater I'd imagine. Trouble in Mind was set to become the first play on Broadway that was written by an African-American woman but, at the last minute, producers of the show wanted her to change the ending. Childress said "No" and the honor went to Lorraine Hansberry's, A Raisin in the Sun.
Trouble in Mind, is set in 1957 and Willetta Mayer (Gaffney), a veteran actress still hoping to find a role that deserves her talent, has come to Broadway to start rehearsals for a new play. She's had her share of playing maids and she's hoping this role will break her out of that. She knows the way things work in late 50's show business for an African-American but, with this role there may be a glimmer of hope.
The director, Al Manners (Yeager), has gathered a cast of talented actors, both black and white, to tell the story of a lynching in the south. Things seem to go smoothly for a while but soon, Willetta starts to realize that this role is just the same as all the others. Does she want to start finally speaking up for herself or should she toe the line?
The first act is brisk and damn funny, though you'll feel the tensions rising as it progresses, thanks to director Delicia Turner Sonnenberg. You'll laugh while at the same time wonder where those laughs are leading us.
The second act is where Willetta stands up and this is where Gaffney and Yeager shine. She can milk a line for everything it's worth and to watch her character from the beginning to the end is an acting class by itself. To be open about things, I'm friendly with Gaffney. We went to the same acting class a while back and we're also Facebook buddies. There's nothing more enjoyable than to see a friend knock a role out of the park like she does.
Yeager is terrific also. His Manners is brimming with confidence and you can feel it from the seats. He's got a monologue in the second act that blew the roof off the theater. You could honestly hear a pin drop, that's how intense it was.
The rest of the cast, including Cashae Monya and Vimel Sephus, are great though most of the time, they're not given a whole lot to do besides standing there and reacting to Gaffney and Yeager. Which, as an actor, I would think isn't a difficult task.
Trouble in Mind at MOXIE Theatre
6663 El Cajon Blvd. San Diego CA 92115
Dates: Jan 22 – Feb 22, 2015: Thursdays at 7pm, Fridays & Saturdays at 8pm and Sundays at 2pm*
Ticket Information: Call 858-598-7620 or Buy Ticket Now Online