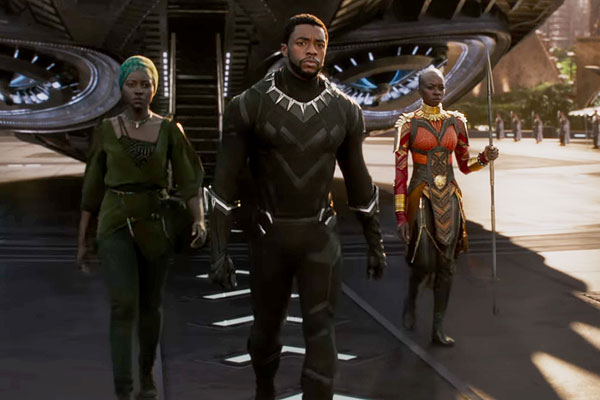 A lot of the time, it seems that story and plot points gets in the way of Marvel films. They have a plan in place and if one movie fails to hit those story points, things could fall apart for the for future movies.  This doesn't necessarily hurt the Marvel movies, it just sacrifices some subtleties of character for the greater good. That's not the case here because the characters and story blend together seamlessly and Ryan Coogler's terrific Black Panther.
Except for a few flashbacks, the story picks up where Captain America: Winter Soldier left off. In that film, we saw T'Challa's (Chadwick Boseman) father die after an attack at the U.N. Now back in Wakanda, he is ready to take on the mantle of King. But peace and harmony only lasts so long because Killmonger (Michael B. Jordan) and Klaw (Andy Serkis) are in search of the powerful metal, Vibranium, which is only found in Wakanda.
Killmonger holds a long time grudge against T'Challa and his family and will stop at nothing to kill him and remove his family from Power. And Klaw? Well, he's just gleefully evil. Serkis is wonderful and he's easily created one of the best villains in the Marvel Universe. Jordan brings swagger and that American 'me first, f you' attitude that is unfortunately popular right now. It's a good contrast between him and the Wakandans.
Boseman is sleek as a cat and his movements and attitude are precise. Kids of any color will want to be him next Halloween.
Black Panther gets his strength and power from vibranium. Hundreds of years ago, the metal flew from the sky and embedded itself into the African region. But, he wouldn't be the hero that he is without the intelligent, strong and funny women who surround him. And, quite frankly, the movie wouldn't be nearly as good as it is without those women. Danai Gurira (The Walking Dead) plays the fierce warrior Okoye, Lupita Nyong'o is his love and matches him in determination and Letitia Wright plays Shuri, his sister. She's the Q to his Bond, but a smarter, quick-witted version. All three save his skin more than once and all three make their mark on this film.
As a standalone Marvel film, this is one of the best.