Tom Hiddleston auditioned for Thor but got Loki: "When I see what Chris [Hemsworth] has delivered I know I could never have done that"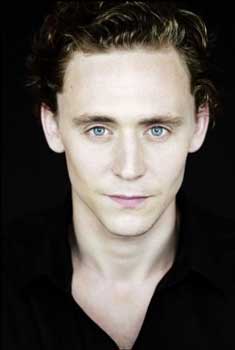 Tom Hiddleston is tearing up the screen as Loki in Thor and he recently talked to The Guardian about what it was like to see his face on a poster for a big-time film. "It's a wildly exciting time. I've never been in a film that has posters on the tube. And it's not even my face on the poster," he said. The poster shows Chris Hemsworth

as Thor, the god of thunder, while Hiddleston plays his amoral brother Loki, the god of mischief. But the actor says,  director Kenneth Branagh originally had him in mind for the lead role.
"Ken found out he'd got the job in late 2008, when we were appearing at the Donmar together, knocking eight bells of ideological crap out of each other every night in Chekhov's Ivanov. Dressed as the self-righteous 19th-century doctor Lvov, with wire-rimmed spectacles, a pocket watch, grey trousers, a linen jacket and a goatee, I ran up to Ken's dressing room holding a massive empty water cooler that I pretended was Thor's hammer. He looked at me and said, 'Don't joke, love, you never know."
Hiddleston was in Los Angeles when he was asked to audition for the role of Thor. He knew a part as significant as this one could make him an international star, yet he insists he wasn't nervous. "I thought, well Ken knows what I can do. Every English-speaking actor over six foot was being seen for the part. I got down to the final few, which also included Chris's younger brother Liam Hemsworth, Alexander Skarsgård, and Charlie Hunnam."
Hiddleston was given six weeks to bulk up, before his audition. "I've inherited my father's lean Glaswegian genes, but I managed to put on three and a half stone in lean muscle. I ate nothing but chicken and just lifted and lifted weights till I could barely walk. Initially it was hard and then it got quite addictive. I outgrew my clothes and started to stand differently."
Despite all his efforts, the lead role went to Chris Hemsworth, but producers offered Hiddleston the role of Loki. "Loki would be much more up my street," Hiddleston says. "When I see what Chris has delivered I know I could never have done that. There's the action in Thor, with big, muscle-bound men smashing things up. There's the humor – my favorite line is when Thor strides into a pet shop and demands a horse. And then there's Loki's psychological depth. I hope it means that Thor can appeal to many people on many levels."
Hiddleston is experiencing a pretty amazing year. He can be seen in a cameo in Woody Allen's Midnight in Paris and is co-starring in Terence Davies's The Deep Blue Sea opposite Rachel Weisz. But the actor is most excited about Steven Spielberg's War Horse, in which he will play Captain Nichols. "Towards the end of filming Thor, I did a video audition for War Horse, and then got a call from my agent saying that Steven Spielberg wanted to meet. I drove up to his office in Universal City and was shown into a room full of Oscars and a model of the boat he's building as a personal project. I got talking to his assistant about coffee – it's my vice; Steven avoids it – and how much I love Guinness. She said, 'Oh my god, Steven loves Guinness! It's his favorite drink!' He walked in at that point and so our first conversation was about Guinness. The ice was broken. He asked about Thor because he loves Ken, and then we were straight on to Vic Armstrong, who was Harrison Ford's stunt double in all the Indiana Jones films and who taught me to ride on Thor. And Spielberg says, 'Well, if Vic taught you how to ride, I'd like you to do War Horse.' I nearly fell off my chair. I was stunned. He offered me the part right there and then! Let me tell you, this never happens. Never. An official offer usually comes in weeks later. I had to ask him to repeat it. At which point I almost burst into tears. Here was the architect of my childhood imagination telling me I'm the real deal."
via guardian.co.uk
Latest Videos
http://www.dailyactor.com/wp-content/uploads/2014/11/sag-foundation-conversation-with.jpg
SAG Foundation Conversation with the Cast of NBC's 'Marry Me'
Earlier this month NBC put in an order for five additional episodes of its freshman romantic comedy series, Marry Me. While that isn't exactly the shot of confidence that a full-season renewal provides, it's enough to keep fans of the comedy — which is about an engaged couple who are determined to get married despite […]
http://www.dailyactor.com/2014/11/conversation-cast-of-nbc-marry-me-casey-wilson-ken-marino/
http://www.dailyactor.com/wp-content/uploads/2012/12/michael-caine.jpg
Michael Caine Talks About Acting With Your Eyes and Does an Amazing Cold Read of a Script
This week acting legend Michael Caine appears in his sixth film directed by Christopher Nolan, Interstellar. In an interview clip from The New York Times that was shot around the release of the last movie Caine worked on with Nolan, The Dark Knight Rises, reporter Melena Ryzik spoke to Caine about his six-decade career. In […]
http://www.dailyactor.com/2014/11/michael-caine-acting-with-your-eyes-cold-read-of-a-script/
http://www.dailyactor.com/wp-content/uploads/2014/11/director-dan-gilroy-narrates-a-s.jpg
Director Dan Gilroy Narrates a Scene from 'Nightcrawler' Featuring Jake Gyllenhaal and Rene Russo
Nightcrawler is easily one of the best movies of the year and its star, Jake Gyllenhaal, is outstanding. Definitely check this out when you have a chance. In the above clip, writer/director Dan Gilroy narrates a sequence from the film that features Gyllenhaal and Rene Russo. He talks about giving Gyllenhaal a small piece of […]
http://www.dailyactor.com/2014/11/director-dan-gilroy-narrates-a-scene-nightcrawler-jake-gyllenhaal-rene-russo/
http://www.dailyactor.com/wp-content/uploads/2014/11/matthew-mcconaughey-talks-losing.png
Matthew McConaughey Talks Losing the Lead Role in 'Bernie' to Jack Black
Though Matthew McConaughey has increased his earned plenty of respect since he started taking on more substantive movie roles in the last few years (with Dallas Buyers Club even earning him an Oscar for Best Actor), one director that always has been a fan of McConaughey is Richard Linklater. Linklater gave McConaughey his first big […]
http://www.dailyactor.com/2014/11/matthew-mcconaughey-talks-losing-the-lead-role-in-bernie-to-jack-black/
http://www.dailyactor.com/wp-content/uploads/2014/11/watch-benedict-cumberbatch-film.jpg
Watch: Benedict Cumberbatch Film the Smaug Motion Capture for 'The Hobbit: The Desolation of Smaug'
Though Peter Jackson's movie adaptations of The Hobbit haven't received the same critical acclaim as his films based on the book's sequel, The Lord of the Rings (turning a 300 page book into 9+ hours of film tends to do that), fans are still eagerly anticipating the release of the final part of The Hobbit […]
http://www.dailyactor.com/2014/11/watch-benedict-cumberbatch-film-smaug-motion-capture-the-hobbit/