Tom Hiddleston auditioned for Thor but got Loki: "When I see what Chris [Hemsworth] has delivered I know I could never have done that"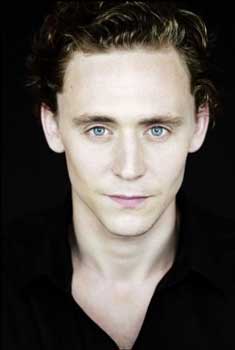 Tom Hiddleston is tearing up the screen as Loki in Thor and he recently talked to The Guardian about what it was like to see his face on a poster for a big-time film. "It's a wildly exciting time. I've never been in a film that has posters on the tube. And it's not even my face on the poster," he said. The poster shows Chris Hemsworth as Thor, the god of thunder, while Hiddleston plays his amoral brother Loki, the god of mischief. But the actor says,  director Kenneth Branagh originally had him in mind for the lead role.
"Ken found out he'd got the job in late 2008, when we were appearing at the Donmar together, knocking eight bells of ideological crap out of each other every night in Chekhov's Ivanov. Dressed as the self-righteous 19th-century doctor Lvov, with wire-rimmed spectacles, a pocket watch, grey trousers, a linen jacket and a goatee, I ran up to Ken's dressing room holding a massive empty water cooler that I pretended was Thor's hammer. He looked at me and said, 'Don't joke, love, you never know."
Hiddleston was in Los Angeles when he was asked to audition for the role of Thor. He knew a part as significant as this one could make him an international star, yet he insists he wasn't nervous. "I thought, well Ken knows what I can do. Every English-speaking actor over six foot was being seen for the part. I got down to the final few, which also included Chris's younger brother Liam Hemsworth, Alexander Skarsgård, and Charlie Hunnam."
Hiddleston was given six weeks to bulk up, before his audition. "I've inherited my father's lean Glaswegian genes, but I managed to put on three and a half stone in lean muscle. I ate nothing but chicken and just lifted and lifted weights till I could barely walk. Initially it was hard and then it got quite addictive. I outgrew my clothes and started to stand differently."
Despite all his efforts, the lead role went to Chris Hemsworth, but producers offered Hiddleston the role of Loki. "Loki would be much more up my street," Hiddleston says. "When I see what Chris has delivered I know I could never have done that. There's the action in Thor, with big, muscle-bound men smashing things up. There's the humor – my favorite line is when Thor strides into a pet shop and demands a horse. And then there's Loki's psychological depth. I hope it means that Thor can appeal to many people on many levels."
Hiddleston is experiencing a pretty amazing year. He can be seen in a cameo in Woody Allen's Midnight in Paris and is co-starring in Terence Davies's The Deep Blue Sea opposite Rachel Weisz. But the actor is most excited about Steven Spielberg's War Horse, in which he will play Captain Nichols. "Towards the end of filming Thor, I did a video audition for War Horse, and then got a call from my agent saying that Steven Spielberg wanted to meet. I drove up to his office in Universal City and was shown into a room full of Oscars and a model of the boat he's building as a personal project. I got talking to his assistant about coffee – it's my vice; Steven avoids it – and how much I love Guinness. She said, 'Oh my god, Steven loves Guinness! It's his favorite drink!' He walked in at that point and so our first conversation was about Guinness. The ice was broken. He asked about Thor because he loves Ken, and then we were straight on to Vic Armstrong, who was Harrison Ford's stunt double in all the Indiana Jones films and who taught me to ride on Thor. And Spielberg says, 'Well, if Vic taught you how to ride, I'd like you to do War Horse.' I nearly fell off my chair. I was stunned. He offered me the part right there and then! Let me tell you, this never happens. Never. An official offer usually comes in weeks later. I had to ask him to repeat it. At which point I almost burst into tears. Here was the architect of my childhood imagination telling me I'm the real deal."
via guardian.co.uk
Latest Videos
http://www.dailyactor.com/wp-content/uploads/2014/07/sir-ben-kingsley-talks-about-the.jpg
Sir Ben Kingsley Talks about the Unique Way He Voiced His Character in the Animated Film, 'The Boxtrolls' (video)
I could listen to Sir Ben Kingsley talk about acting and.. well, I could listen to him talk about anything. He's starring in the new Laika stop-motion animated film, The Boxtrolls, and he and some of the cast (along with the director) joined in on a Comic-Con panel about the film. The Boxtrolls is about [...]
http://www.dailyactor.com/2014/07/sir-ben-kingsley-the-boxtrolls-comic-con/
http://www.dailyactor.com/wp-content/uploads/2014/07/bill-hader.jpg
Bill Hader: "I kind of fell into acting" (video)
Bill Hader, starring in the soon to be released The Skeleton Twins, talks about the film and how he fell into acting and then got "crazy lucky" in this quick video from USA Today.
http://www.dailyactor.com/2014/07/bill-hader-fell-into-acting-video/
http://www.dailyactor.com/wp-content/uploads/2014/07/director-john-carney-narrates-a.jpg
Director John Carney Narrates a Scene from 'Begin Again' Starring Kiera Knightley and Mark Ruffalo
Director John Carney (Once) narrates a scene from his new film, Begin Again. Starring Keira Knightley and Mark Ruffalo, the scene shows the first time the two characters meet. I haven't seen it yet but I've heard it's great.
http://www.dailyactor.com/2014/07/begin-again-scene-director-john-carney-keira-knightley-mark-ruffalo/
http://www.dailyactor.com/wp-content/uploads/2014/07/holler-if-you-hear-me-gma.jpg
Watch the Cast of Broadway's 'Holler If You Hear Me' Perform 'California Love' on GMA
The cast of Broadway's newest musical, Holler If You Hear Me with music from Tupac Shakur, performed on Good Morning America this morning. Singing 'California Love', the cast (including the teriffic Christopher Jackson – read our interview here), show why they're the most energetic and inspiring group of actors on Broadway. Holler If Ya Hear [...]
http://www.dailyactor.com/2014/07/watch-cast-broadways-holler-hear-perform-california-love-gma/
http://www.dailyactor.com/wp-content/uploads/2014/07/behind-the-scenes-of-dawn-of-the.jpg
Behind the Scenes of 'Dawn of the Planet of the Apes' with Performance Capture Actor Terry Notary
Actor Terry Notary is 1 of 5 actors playing the apes in the new Dawn of the Planet of the Apes. "When you see armies of apes," he says, that's "five of us." Check out the video where you can watch his performance capture work.
http://www.dailyactor.com/2014/07/dawn-planet-apes-performance-capture-actor-terry-notary/