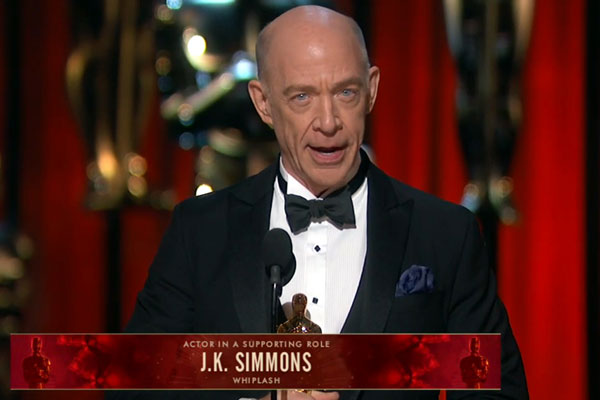 Of the four speeches from last nights Academy Awards acting categories, J.K. Simmons was my favorite. We'd heard him say some of the same things back when he won his SAG Award but the whole 'call your parents' moment really got me. Did I call my parents? No, but that's because I'm a jackass. But it was still a lovely moment.
Eddie Redmayne's was fun as well. That moment when he jumped up and down was really nice. Patricia Arquette and Julianne Moore are just two wonderful human beings, aren't they? Besides being terrific actresses, they are smart and caring and their speeches reflected that.
Check out the speeches from Simmons (Whiplash), Redmayne (The Theory of Everything), Moore (Still Alice) and Arquette (Boyhood) below!
Actor in a Leading Role: Eddie Redmayne for The Theory of Everything
Eddie Redmayne: I don't think I'm capable of articulating quite how I feel right now. Please know this, I am fully aware that I am a lucky, lucky man. This Oscar—wow!—this Oscar, this belongs to all of those people around the world battling ALS. It belongs to one exceptional family: Stephen, Jane, Jonathan and the Hawking children. And I will be its custodian and I will promise you I will look after him. I will polish him. I will answer his beck and call. I will wait on him hand and foot. But I would not be here were it not for an extraordinary troupe of people. My staggering partner in crime, Felicity Jones. My ferocious and yet incredibly kind director, James Marsh. Working Title, Focus, Lisa and Anthony, Nina and my ingenious team of Dallas, Josh, Gene, Jason, Elan, Carl, Britney and Carrie and Pip. Now, finally, please, this is so extraordinary. I just want to thank my family and you, Hannah, my wife. I love you so much. We have a new fellow coming to share our apartment. Thank you.
Actress in a Leading Role: Julianne Moore for Still Alice
Julianne Moore: Thank you so much. I read an article that said that winning an Oscar could lead to living five years longer. If that's true, I'd really like to thank the Academy because my husband is younger than me. There's no such thing as best actress, as is evidenced by the performances of my fellow nominees. I've been honored to be among you every step of the way. I am grateful for this and grateful for the opportunity to stand up here and thank people that I love. My manager Evelyn O'Neill, Kevin Huvane, Steven Huvane, Josh Lieberman, my family, my grandparents, my brother Peter, my sister Valerie, my mother and father who told me that I could be whatever I wanted to be if I got an education. Although, I didn't think they meant being an actress. And I thank my dad for showing me the world. I want to thank everybody who made this movie: Sony Classics, Killer Films, James Brown, Lex Lutzus, Lisa Genova, Kristen Stewart, Alec Baldwin. I'm so happy—I'm thrilled actually that we were able to hopefully shine a light on Alzheimer's disease. So many people with this disease feel isolated and marginalized and one of the wonderful things about movies is it makes us feel seen and not alone. And people with Alzheimer's deserve to be seen, so that we can find a cure. And finally, to our filmmakers, Wash Westmoreland and Richard Glatzer, who had hoped to be here tonight but they can't because of Richard's health. When Richard was diagnosed with ALS, Wash asked him what he wanted to do. Did he want to travel? Did he want to see the world? And he said that he wanted to make movies and that's what he did. And, finally, for my husband Bart and our children, Cal and Liv, thank you for my life. Thank you for giving me a home. Thank you very much for this.
Actor in a Supporting Role: J.K. Simmons for Whiplash
J.K. Simmons: Wow, thank you. Thank you to the Academy. Thank you to everyone involved in the making of Whiplash. And I am grateful everyday for the most remarkable person I know: my wife, the wonderful Michelle Schumacher. I'm grateful for your love, your kindness, your wisdom, your sacrifice and your patience. Which brings me to the above-average children—even though I may try their patience more. Joe and Olivia, you are extraordinary human beings. Smart, funny, kind, loving people and that's because you are a reflection of your mother. And if I may, call your mom, everybody. I've told this [to], like, a billion people, or so. Call your mom, call your dad. If you're lucky enough to have a parent or two alive on this planet, call 'em. Don't text. Don't email. Call them on the phone. Tell 'em you love 'em, and thank them, and listen to them for as long as they want to talk to you. Thank you. Thank you, Mom and Dad.
Actress in a Supporting Role: Patricia Arquette for Boyhood
Patricia Arquette: Thank you to the Academy, to my beautiful, powerful nominees. To IFC, Jonathan Sehring, John Sloss, Cathleen Sutherland, Molly Madden, David DeCamillo, our whole cast and our crew. My Boyhood family, who I love and admire. Our brilliant director Richard Linklater. The impeccable Ethan Hawke. My lovelies, Ellar Coltrane, Lorelei Linklater. Thomas and Paul, thank you for giving me my beautiful children. Enzo and Harlow, you're the deepest people that I know. My friends who all work so hard to make this world a better place. To my parents, Rosanna, Richmond, Alexis and David. To my favorite painter in the world, Eric White, for the inspiration of living with a genius. To my heroes, volunteers and experts who have helped me bring ecological sanitation to the developing world with GiveLove.org. To every woman who gave birth, to every taxpayer and citizen of this nation, we have fought for everybody else's equal rights. It's our time to have wage equality once and for all and equal rights for women in the United States of America.