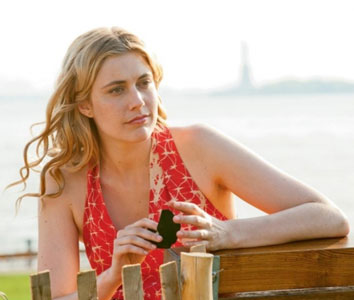 While Parker Posey has long been referred to as Queen of the Indies, one can make an argument that in the last several years Greta Gerwig has staked an impressive claim on the title herself. 
Gerwig's latest film, Lola Versus, is about a nearly-30 woman who is dumped by her fiancee weeks before their wedding and how she copes with it via adventuring.  The unique spirit which is Gerwig gave a fascinating interview to Collider about shooting the film in New York City (where she lives) and how she sees acting like… a fencing match?
Gerwig was mostly comfortable with shooting the film in New York except for having to maintain her personal live during the shoot.  She explains, "I love New York. I live in New York. We shot two blocks from my apartment lots of days which was amazing. But I think it's really hard to work in a city where you live too, because I get so absorbed with the movie that I become a bad friend and a bad participant in my own life. It would almost be better if it was shot in Canada because then I wouldn't feel like I'm letting everybody down all the time."
Gerwig was a fencer when she was younger, and she sees the demands of sports to be very similar to acting.  She says, "There's an economy in sports that I always think is a useful metaphor for acting. You have an objective. You're trying to win, and of course, you want to do well. You want to use good techniques so you enforce it, but also you don't do things you don't have to do. It's very economical, and I think that in acting the most economical way through a scene is always the best. It's active. There is the sense of the fight and you want to win. Using that energy in a scene can really cut the fat off of something and streamline it. It can make it work for you and activate it for you in a way. If you're just wallowing in the emotions of it, then sometimes it doesn't get as clear as when you can just treat it like a fencing match."
Well, when she puts it that way it does make sense.  Lola Versus is now playing in New York and Los Angeles, and also appears in Woody Allen's To Rome with Love, which opens in limited release later this month.