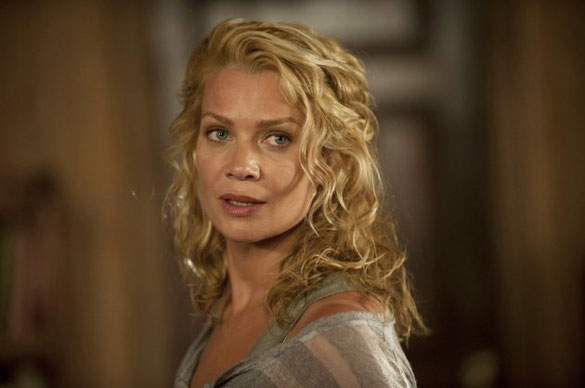 For AMC's The Walking Dead cast, killing zombies is basically a piece of cake.  Getting naked on the other hand is a little more challenging.  Last Sunday's episode featured Laurie Holden, who plays Andrea on the show, revealing a bit of skin for her love scene with the Governor.
"I'm a woman.  It's a little daunting to know you're going to take your clothes off and 16 million people are going to see it," Holden said in an interview with Vulture.  "It's not a normal day at the office."
Luckily, the production team did give her a heads up that she'd be one of the few cast-members to actually have a love life on the series.  "They talked to me beforehand because I've never…well, I can't say never, but I haven't done anything like that in a long time," Holden said.  "And it was really risky for the show because…we don't do that on The Walking Dead.  But [Glen] Mazzara [the show-runner] brought up a good point, which is, you know, people have sex.  You can kill zombies and show all this brutality, but where are all the people hooking up?  Because that's what they would do."
It's been a difficult season for Holden's character, who has been split up from the rest of the cast who are secluded in a local prison.  The actress admits it's a different vibe from past seasons where the entire cast was shooting scenes together.
"I missed them, but we're very close off set, so I actually was able to have more fun with them.  We were just excited to see each other on the weekends and at dinners," Holden said.  "We'd also have these little wars in the makeup trailer.  I'd put up a picture of me and the Governor and they'd write on it, mean things that I cannot even repeat in this interview, but we'd basically communicate through the mirrors in the makeup and hair trailers.  When the honeymoon was over in Woodbury, I did definitely want to get back to the prison.  It was like life imitating art."
Other challenges facing the cast are the intense shooting schedule and continual upheaval among the production team.  "We don't have table reads anymore because the scripts are fast and furious, and we just kind of get them and run," Holden admitted.  Also, it was recently announced that the show's second show-runner, Mazzara (who took over for Frank Darabont) is being replaced next season by Scott Gimple.
"This is the second time this has happened, and yeah, hopefully the third time's the charm," Holden said.  "I won't lie: It's very upsetting when the captain of the ship leaves and then there's a new one.  But the beauty of our show is that the actors and the crew, everyone is so dedicated and so good at what they do that I think it'll be around for a long time."
The Walking Dead airs on AMC, Sundays at 9 p.m.