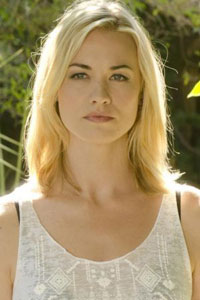 Let's be clear about one thing—Yvonne Strahovski has learned a thing or two about how to get away with murder after playing a serial killer (and a girlfriend to one) on Showtime's Dexter.
"I think poison is a pretty good option.  Either that, or a lethal injection," Strahovski joked (we hope) in an interview with Vulture.
Before starting her role as Hannah McKay, the Aussie actress (formerly of Chuck fame) did some preparation to get in the mindset of a murderer.  "Aside from the entire six seasons of Dexter, I watched a couple of movies—Natural Born Killers, Monster," Strahovski said.  "They're all very different, and I took elements from each, like the heart that Charlize Theron put into Aileen Wuornos."
"Watching Dexter back-to-back, like six or seven episodes back-to-back at a time, I would end up having weird dreams about serial killers.  It really infiltrated my brain.  And then I got to the set, and I had a hard time remembering the actors' real names!  I wanted to call them by their character names.  I don't know if they noticed."
Even if they did, they probably shouldn't do anything to make Strahovski mad.
The season finale of Dexter airs Sunday at 9 p.m. on Showtime.