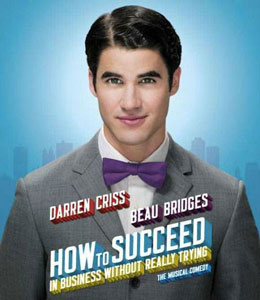 Glee fans won't have to worry about missing Blaine for too long. 
Despite Darren Criss' stint taking over Daniel Radcliffe's role in Broadway's How to Succeed in Business Without Really Trying, the actor will return to the set of the FOX series by the end of January. 
In an interview with E!Online, Criss says, "I'll be gone for maybe one or two episodes.  There's a lot going on on that show.  You won't even notice!"
After accepting the part in which he'll make his Broadway debut, Criss assumed Glee creator Ryan Murphy would probably choose to cut the part of Blaine (fan favorite boyfriend of Kurt Hummel.)  "I thought that before I was going to leave, they might write Blaine out just to make things easier on everybody."
Instead Criss was given a great deal of screen time in the anticipated upcoming Michael Jackson tribute episode.  "Right before I left, Blaine had a lot of really cool things to do…When you see that episode, I shot all my stuff in four days.  It was quick!"  However, as a series regular on a show known for its long work days and exhausted cast, Criss is still appreciative of this wonderful opportunity in his career.  Criss describes filming the Michael Jackson episode, in which he sings "You Wanna Be Startin' Somethin,'" as "a shotgun of crazy, exhausting stuff and it was both a thrill—because you really wanna do justice to these awesome songs—but frustrating, because I wanted it to be perfect and amazing.  So hopefully they cut it right."
Criss won't have long to wait to see the final cut of the episode—he'll be back on the Los Angeles set after he takes his final bow on Broadway on January 22.