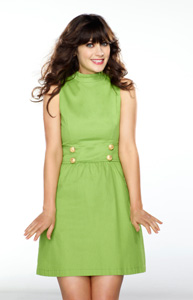 Available for free through the evening of the premiere, Zooey Deschanel's FOX show, New Girl, is the first network series to have its debut on iTunes before a its premiere.
You can watch the pilot on iTunes and it will hit Fox.com and Hulu at 12:05 a.m. on Sept. 13 ending its run at 11:55 p.m. on Sept. 19.
In the debut episode, Jess Day (Deschanel) discovers her long-term boyfriend is cheating on her and decides to move into a loft apartment with three male roommates – prickly bartender Nick (Jake Johnson), womanizer Schmidt (Max Greenfield) and intense personal trainer Coach (guest-star Damon Wayans, Jr.). The guys, alongside Jess' childhood best friend Cece (Hannah Simone), try to help Jess get back on her feet and into the dating world.
Check out the trailer below