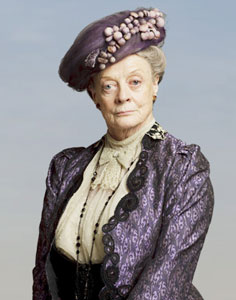 Rumors are swirling that Dame Maggie Smith could be leaving her role as Violet Crawley on Downton Abbey after the third season. 
According to the UK's Daily Mail, a source said that "Maggie has asked [writer] Julian [Fellowes] to write her character out.  She is filming until August and then wants to leave, going out on a high.  She thinks that three series is enough and she wants to get back to the stage and big screen.  She is keen to pursue other roles, so Julian is preparing to write her out.  He always has several endings so it won't be too difficult for him, but losing Maggie will be a great loss."
[Lance here] The New York Times is reporting that a rep for the production company has said that statement in The Daily Mail was "complete nonsense. We never comment on future story lines but it's not true that she's leaving."
The third season will begin airing on PBS in September.