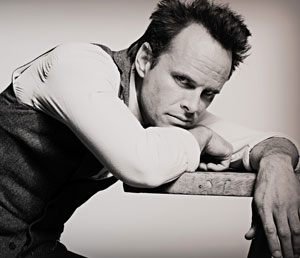 At the end of the day, Walton Goggins knows he's lucky.  He has a choice role on FX's Justified and has had the spare time to pop up in award-winning movies like Django Unchained and Lincoln.
"Yeah, I have good management and a lot of kind people on Justified who try to accommodate these other things," he said in an interview with HollywoodandFine.com.  "It's so nice to leave Harlan County and go into other worlds that come along.  To go into the world of Quentin Tarantino and Steven Spielberg is kind of mind-bending."
Goggins is certainly enjoying his time playing Boyd Crowder on Justified—a role that was supposed to be killed off in the first season.  "I love my day job with Boyd Crowder and the relationships on that show," the 41-year-old said.  "I'm very grateful for this season." 
The actor initially moved to Los Angeles when he was 19.  "I never subscribed to the notion that I needed to be starving to be an artist," Goggins admitted.  He ended up starting a valet parking business but said, "I did not make a lot of money but I had freedom."
Then came his breakout role, as Detective Shane Vandrell, on another FX series, The Shield—a part he went on to play for eight seasons.
"I'd been working a long time when I got that, but I don't think people knew what to do with me," he said.  "TV really had no place for me before these programs started cropping up on cable.  But then Shawn Ryan and Clark Johnson and Scott Brazil saw they could use what I had to offer."
Since then he's been nominated for an Emmy for his portrayal of Crowder, along with other accolades praising his performances.  "I've been around a long time—sometimes it takes a person a little longer to arrive at a place, given the opportunity."
Justified airs on FX, Tuesdays at 10 p.m.