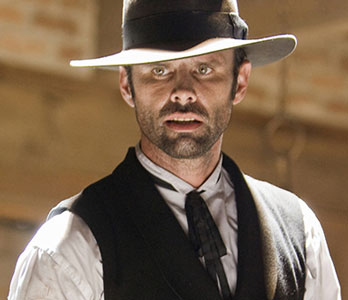 Walton Goggins is best known for playing bad guys, like Justified's Boyd Crowder and The Shield's Shane Vendrell, but the actor doesn't want everyone to think he's some sort of criminal.
"Well, hopefully I don't have to prove it, because I don't think I'm a terrible person.  So hopefully it just takes a couple of minutes talking to me to see that I'm not that guy," the actor said.
Goggins (with arguably one of the best names in show biz right now) is currently appearing in Quentin Tarantino's Django Unchained.  Although Goggins hadn't worked with the famous director before, he developed a method in order to get acquainted with Tarantino's set.
"Whenever you show up on a set where you haven't been from the beginning—at least myself—I'm kind of quiet," Goggins told Interview.  "I just watch the politics and how everything unfolds.  It's kind of like going to a new high school.  You want to see who everyone is before you introduce yourself, really, to kind of make friends.  I think any smart person does that in social situations.  So I just kind of watched, and listened."
The actor, who's been nominated for an Emmy for his role on Justified, admitted that although he's been attached to quality projects, it's not always easy for an actor to map out a successful career.  "An actor that tells you that they have real choices between material is, for the most part, lying.  There are very few people that have opportunities.  But what you do have where I am in my career, is saying no to the things that seem repetitious.  For me, I always look for material that allows me to bring my worldview to it.  And those opportunities, since the beginning of The Shield, have grown exponentially."
Django Unchained is in theaters now, and the new season of Justified premieres on FX on Tuesday, January 8.