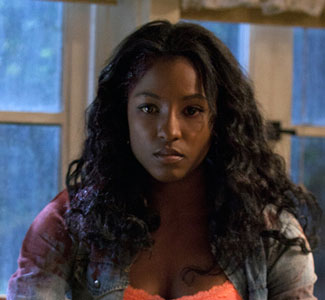 True Blood fans were in for a big surprise after tuning into the hit series' premiere of the fifth season.  Series regular Tara, played by actress Rutina Wesley, is now a vampire.  I know I was in shock watching as her best friend, the show's lead character Sookie Stackhouse (Anna Paquin) and Lafayette (Nelsan Ellis) helped her…. turn, and so was Wesley who recently discussed her character's big transition with Vulture.
"I was actually very surprised. I wouldn't have expected Tara's journey to go that way. I was excited but incredibly terrified at the same time," she said. "Well, as an actor, when you're going to be shot in the head at the end of a show's season, and you hear about this next step that's totally different from what you've done, it can be scary. I will never forget [series executive producer] Alan Ball pulling me to the side on set last season and going, "Hey! We're really excited and we hope you will be too because Tara is going to be turned into a vampire." I was just like, "Uh … uh … okay? Awesome?" I didn't want to react too much because we were shooting and it was supposed to be secret. But I went home and was like, "Oh my God, I gotta start over. What am I going to do? I hope I'm a good vampire!" It was a mix of emotions."
Tara's change of fate seemed long overdue since it has been well known fans of the show were becoming irritated with her repetitive role as a victim.  It was also a nice change of pace for Wesley.   "It's always been a challenge, but I've loved everything they've written for me. Meaty, dramatic, tumultuous. Tara's always had a lot going on, and that gives me so much to play. It was difficult sometimes playing someone who's always so heavy and then going home and trying to shake it off. But I kind of love it."
How did Rutina prep for her new role as a blood sucker?  "I needed the Vampire Book for Dummies. I kept asking for the guys. I don't know how to put these teeth in. Everyone helped, but I've also created my own vampire. I've got my own bite, my own way of moving. I've come up with a couple of animals, too, to help me be a more feral vampire. I think Tara's very feral."
True Blood airs on HBO, Sundays at 9pm est.