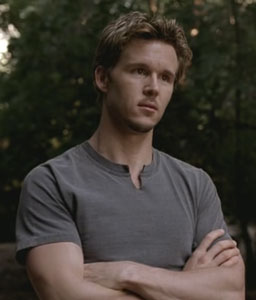 Aussie Ryan Kwanten plays the adorably dumb Jason Stackhouse on HBO's True Blood but Kwanten likes to think there's more to Jason than just his six-pack.
The actor told Vulture, "I see him more as simple than dumb.  There's an innocence to Jason.  He can get away with some of the things he does because of that innocence.  Whereas being dumb, you don't really get any sympathy for that.  He was originally based on a couple of people I knew, but it's turned into his own beast now."
Judging from his hard partying ways off-screen, it looks like Kwanten has some things in common with his character. 
He admitted to Men's Health that he once competed in a triathlon… drunk.  He said, "I work very, very hard, so when I do get the chance to go out socially, it's a relatively big night.  I also have hobbies on the side, and quite often one runs into the other.  It's surprising when you are drunk—believe me, I'm not endorsing getting drunk and doing a triathlon—but there is a numbness that comes over you when you are drunk.  The element of pain doesn't seem so pervasive. That afternoon, once the hangover kicked in, that was not very good."
True Blood airs on HBO, Sundays at 9 p.m.