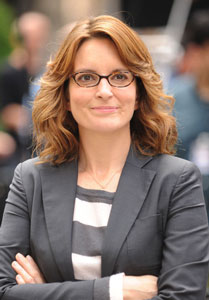 Tina Fey is already preparing herself for what it will be like to stop work on the hit NBC comedy 30 Rock.
"Oh my God, it's going to be horrible," she said.  "For years, I've been doing this joke whenever Jack McBrayer would finish, I would say, 'That's a series wrap for Jack McBrayer,' or 'That's a career wrap for Jack McBrayer.'  And now that's going to be true for all of us."
Fey admits that letting go of playing the character of Liz Lemon will be just as difficult as ending the show's run.  "I keep trying to tell my husband and Robert Carlock [writer and producer of 30 Rock] to be ready," she told Vulture.  "At SNL, you knew at the end of the season you were going to hit a two-week depression.  It's hard to stop.  And this has been a longer run and a harder run in a lot of ways.  I think it's going to be like when people run a marathon and they throw up at the end."
When asked if she'll revisit Liz Lemon at any point, Fey said she didn't know.  "I hope what we figure out for the ending will be satisfying in a way, you know, where we're leaving her, and for a while, we know she's going to be all right.  I don't think 30 Rock lends itself to a $70 million movie, so we may be leaving her.  I don't know, maybe a series of novels.  I could novelize Liz Lemon.  Sure."
That's not to say that Fey doesn't have any other projects in the pipeline.  Her husband said that she's working on a Mean Girls musical, based on her 2004 film.  "I'm confident that Paramount will give us permission to work on it, but I think he's secretly been working on it for years!  He's been in there, in his office, working on it for a long time now, yeah."
30 Rock will finish out its run on NBC, Thursdays at 8 p.m.