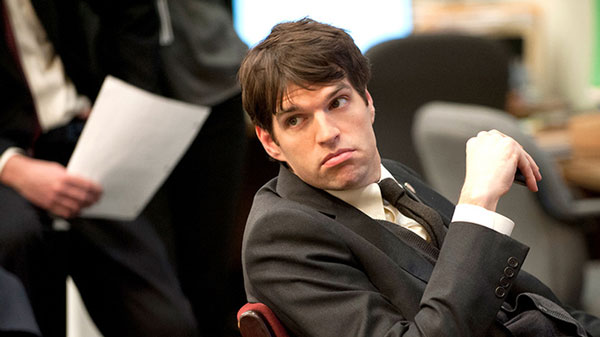 While it's undeniable that Veep is definitely Julia Louis-Dreyfus's show (she has her third and fourth Emmy to prove it), she has a stellar supporting cast to count on to make the show really great. However, one of those cast members, Timothy Simons, who plays the awful presidential liaison Jonah Ryan, was an unknown actor when he was cast in the role. In an interview with The New York Times, Simons talks about his character, his history in acting, and how his inexperience made him feel while acting opposite Louis-Dreyfus.
Simons admits that Ryan's creepy and abrasive nature makes him fun to play. He explains, "I think one of the joys of playing a character like that is that you're not bound by human decency in any way. If somebody's uncomfortable, you can just ignore it."
Simons is a new face to many viewers, but he has been attempting to make it in acting for years. He started as a video store clerk in Winthrop, Maine and studied theater at the University of Maine. Next he went to Chicago, where he became a member of a theater troupe called the Hypocrites. It wasn't until 2008 that he decided to move to Los Angeles to pursue opportunities in TV and film even though he did not have any contacts to speak of. He admits, "I came out here the wrong way."
Nonetheless, two years later he was hired to co-star on Veep. Unlike other TV regulars, the only television experience Simons had was commercials. He says, "It wasn't just that I hadn't been a co-star on a television show, I had never even been on a television show, ever."
That lack of experience left him extremely anxious, especially since the star of the show is TV icon Julia Louis-Dreyfus. He confesses that the intimidation got to him, saying, "On the first day, I immediately thought I was going to get fired. I said one line, and I was like, 'You're going to be replaced before lunch, because you're garbage.'"
However, Simons obviously was not fired and has actually seen his role expanded over the series' first two seasons so if he really was "garbage" he was the exact garbage that producers were looking for.