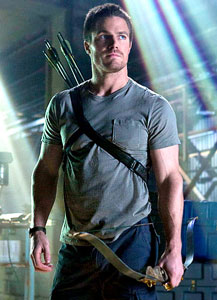 The entertainment world doesn't seem to be tired of superheroes yet. 
The CW is currently launching its new series, Arrow, based on the Green Arrow comic books.  The show, starring Stephen Amell, allowed the lead actor to perform many of his own stunts and a lot of character work.
"When I looked at the pilot, I saw four different roles," Amell told The Fresno Bee.  "I will have a day where it's sort of fake Oliver in the real world right now, and then there will be an island day, and there's an Arrow day and Laurel [Lance, a possible love interest] days.  And it's a really fun exercise.  It keeps me on my toes, and that was what intrigued me most when I read the pilot.  I think that's saying a lot because it's a superhero show, or at least an opportunity for me to play a superhero."
"For me to see it first as a really interesting acting exercise says a lot about the quality of the writing."
Indeed, the show is one of the most talked about dramas of the new fall season.  Executive producer Greg Berlanti is known for his acclaimed series like Everwood and Brothers and Sisters, but he also has some comic book cred as he produced the Ryan Reynolds Green Lantern movie.  Other superhero experience came from executive producer Andrew Kreisberg who wrote a Green Arrow/Black Canary series for DC Comics.
Arrow airs on The CW, Wednesdays at 8 p.m.