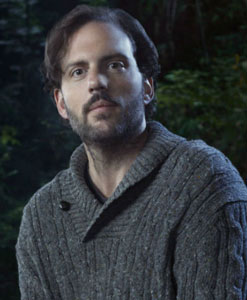 Silas Weir Mitchell, who plays Big Bad Wolf Monroe on NBC's Grimm, isn't getting too caught up in the ratings hype regarding his successful show.
"I think it's literally the fact that I am susceptible to the power of suggestion…to the point where [suggestion] became my career," he said in an interview with The Los Angeles Times.  "That's what actors do.  They avail themselves to an imaginary event to the point where that imaginary event becomes real, which is really just the power of suggestion."
It may sound like Mitchell is getting sucked into the supernatural drama that Grimm represents.  The series takes place in a hidden world where fairy tale characters come to life.  "We're all very invested in the imaginary world that we're in," he admitted.  "Everybody knows that we have this weird little world that we want to enrich."
This world is one that Mitchell is constantly fascinated by—including the season two finale that aired on Tuesday.  "The corner they've written us into…I don't know how we're going to get out of it," he said.  "That's one of the fun things about serialized TV: you have to kind of wait and see where you're going.
"As long as something is mysterious and fun, that's hard to turn away from."
Grimm's third season will air in the fall on NBC.