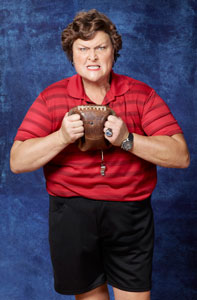 A 15-time world arm wrestling champion and former juvenile detention center worker, Glee's Dot-Marie Jones isn't your average primetime comedy actress. However, the actress is enjoying a change of pace with Fox's hit musical series, on which she plays a touch-girl football coach who also enjoys belting out a tune every once in a while.
"Over the last 20 years, I've played every tough-chick role imaginable," she told USA Today during a recent interview. "And to still get to play that big, tough chick and a character with such heart and vulnerability is fantastic for me. It lets people see that I do have a range outside of the big tough chick."
Jones was originally cast as a transgender in Glee showrunner Ryan Murphy's 2008 pilot, Pretty/Handsome. However, that show didn't get picked up by FX, but Murphy eventually found a place for Jones on Glee, as coach Shannon Beiste.
"He says, 'Well, can you sing?' I said, 'I'm no Mariah Carey, but I can carry a tune.' Two months later, I got a call with Ryan wanting to know what his schedule was like," recalled Jones, who also appears in And They're Off, which arrived in theaters last week. "When I signed my contract, it didn't even have a character name — just two quotation marks. I said, 'I don't care. I know I'll do it.'"  
Jones is scheduled for 6-episodes this season but is hoping "it turns into a lot more than that, but I'm honestly so thankful for the work that I'll keep doing this," she said.
"This overnight success 20 years later is working pretty well for me. It was the longest night of my life, but I'll take it."