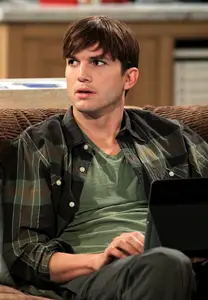 Forbes has released its annual list of highest paid television actors, and topping this year's list again is a star from ABC's Two and a Half Men.  Of course, this time it isn't Charlie Sheen… it's his replacement, Ashton Kutcher.
Kutcher tops the list at earning $24 million for his role on Two and a Half Men.  Ratings for the show have remained fairly consistent with the ratings for the Charlie Sheen years, making Kutcher's replacement of Sheen one of the few times a major character change on a sitcom hasn't led to a ratings drop.  Still, it's a huge drop from Sheen's paycheck last year — Sheen topped the list in 2011 with $40 million.  However, Sheen didn't make the list this year despite starring in a new show, FX's Anger Management.
Curiously, Kutcher earns a significant amount more than those who follow him on the list, with TV veterans Hugh Laurie and Ray Romano coming in tied for #2 with $18 million each.  However, Laurie's House ended last season, and Romano's Men of a Certain Age was canceled at the end of season.  Alec Baldwin follows at $16 million (his show, 30 Rock, is in its final season), NCIS' Mark Harmon at $15 million, Tim Allen at $14 million, Kutcher's co-star Jon Cryer at $13 million, Grey's Anatomy star Patrick Dempsey at $12 million, The Big Bang Theory's Jim Parsons and Johnny Galecki and How I Met Your Mother's Jason Segel at $8 million each.
The rankings are based on estimated earnings from May 2011  and May 2012 before deductions of agent and management fees or other expenses.