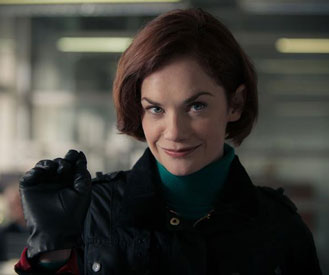 Ruth Wilson has a great off-screen relationship with her co-star Idris Elba on the BBC drama, Luther.
"It comes from the writing, it comes from us working with each other," she said in an interview with Vulture.  "We really love the bantering.  It is a bit heightened and it is a bit stylized and Idris really enjoys that."
Wilson's character, Alice Morgan, wasn't always guaranteed to make a return to the series.  "You don't know much about her, and she just drops in and out, so you want to keep it exciting and interesting without over-egging the pudding, if you know what I mean," she explained.  "You've got to find a way of bringing her in but not showing too much of her so that it becomes unbalanced."
Wilson has enjoyed bringing the complicated character to the small screen.  "I think Alice is a major part of the show, and their dynamic is really unusual and really special," she said.  "You've never seen a role like this before, certainly not for a woman.  You end up falling in love with a psycho.  Neil [Cross, series creator] loves the character, we all love her.  We'll see what happens in the future but I love playing her, she's kind of very easy to play, weirdly.
"I kind of feel bad admitting she's easy to play, like I'm a bit of a weirdo.  But she's really fun.  You don't have a moral conscience with her so anything goes.  She's a child, a clown, nasty, psycho—you can kind of play anything you want and get away with it.  I quite like that she's completely free."
Luther's entire third season has already aired in the UK, but new episodes have started airing at 10 p.m. on Tuesdays on BBC America.