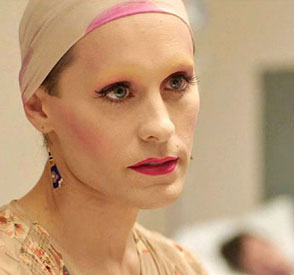 Jared Leto is making waves for his transgender performance as Rayon in the fall film offering Dallas Buyers Club. Much has been made about his transformation into the character and the fact that he stayed in the role for the entire 25-day shoot.
One of the highlights of the film is how naturally his friendship develops with fellow AIDS-sufferer and homophobe Ron Woodroof played by Matthew McConaughey. Leto talked with Moviefone about how that relationship developed so fluidly.
He said, "We both had a great sense of our characters and what we were doing there; the circumstances, the situation, the story. So it was actually, I think, really beneficial that we didn't really know each other and we didn't spend any time rehearsing."
Even with a beautiful partnership forming on-screen, Leto noticed how he was treated off-screen while in character for Rayon. It wasn't that pleasant.
"I went to Whole Foods once, and that was interesting. Number one, because I wasn't eating. Number two, I had a break in the set, so I ran over to Whole Foods to just kind of stare at the food and probably get some water or something. But I remember getting three distinct looks," he revealed. "One was, 'Who is that?' The other was, 'What is that?' And the third was, 'I don't know what that is, and I don't like it.' So, yeah, that was a pretty intense experience, to have that kind of judgmental gaze cast my way, but I think it was really important to understand what that was like."
Even with such judgment the former My So-Called Life star was able to separate himself from his transgender role.
"When I look at photos, I see Rayon. I see the character, and I think I'm just really happy that I had the opportunity to help bring this person to life. It was the role of a lifetime, and it was an absolute pleasure," said Leto.
Dallas Buyers Club is now open in select theaters.