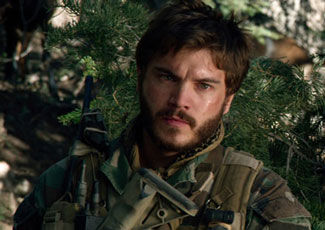 Sometimes actors dread auditions. For one actor, he had the opportunity to skip the audition under one condition…he had to work out. Emile Hirsch was cast in the Peter Berg-directed Lone Survivor as a Navy SEAL in Afghanistan, so the role required some rigorous gym time.
He said, "No audition other than the working out."
While that sounds pretty easy, it actually backfired on the 28-year-old actor.
"I gained weight for Prince Avalanche trying to get Lone Survivor," Hirsch said, "thinking that if I got really big that Pete would be impressed with my body."
He put on 20 pounds, but the director was not impressed at all.
The Bonnie & Clyde star revealed, "Pete just thought I looked fat and not ready for the movie. I had to lose all the weight that I gained trying to impress Pete."
The director sent him straight to the gym for three months in order to prove that he deserved the role.
"It was insane at the time — my agent said, 'we've never heard of any director doing this to an actor ever before, ever.' And I trained twice as hard because I wanted it that badly," he said.
Berg made sure to hold him accountable for his workouts and put his own personal trainer on the job with Hirsch.
Hirsch explained, "He held it over my head — he said, 'I won't offer you this until you do exactly the physical training I demand.'"
It was tough mentally because Berg "would come in every now and then, like once a week, once every couple days, and yell at me a little bit as I trained. He threatened to fire me constantly if I didn't complete all the physical exercises."
However, Hirsch was glad he went through the process since the shoot was rough.
He explained, "Oh my God, I would have been done if I had not had that training. I've never been in as good shape in my life. I'll probably never be in as good as shape ever again, especially because I'm playing John Belushi next."
Lone Survivor opens Dec. 25.