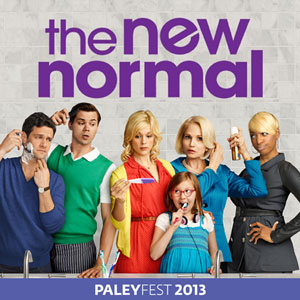 Ryan Murphy believes television can change the world. So, with the three shows he has on the air now (Glee, American Horror Story, The New Normal), Murphy is working to change people's perceptions about the status quo.
At the PaleyFest in Beverly Hills, television fans can gather to celebrate some of the best shows over the past year.  On Wednesday, the cast and creative team behind The New Normal gathered at the Saban Theater to discuss why the show means so much to modern audiences.
"People feel that they know gay couples more than ever," Murphy said, citing shows like The New Normal and Modern Family.  "If you know someone and you know what their struggle is, you're less likely to have prejudice against them.  [Gay rights] is the biggest civil rights movement of our time and the reason we've had the quick leap forward is because of television."
Murphy admitted that the show is loosely based on his own experience adopting a baby via surrogate with his partner, David.  Along with co-creator, Ali Adler, the two worked to create a show that would encompass "all our 'new normals'," Adler said.  "We wanted to address what's happening now."
The cast, including Justin Bartha, Andrew Rannells, Bebe Wood, Nene Leakes, and Georgia King, were all on hand to describe their common goal of portraying all different types of parents on the show.  "We wanted to portray a gay couple in a realistic way," Bartha said, adding that the last four episodes of the season are his favorites.  Rannells added that the show works to depict a loving relationship, despite those that might be uncomfortable with the couple showing affection.  "It's not a very special episode of The New Normal [any time we kiss]," he said.  "It's folded into the story."
The evening was moderated by actor John Stamos (ER, Full House), who has recently appeared on the show as a love interest for Ellen Barkin's character.  A fan of Murphy's, Stamos has also shown up on episodes of Glee.  He brought a level of excitement to the evening, sometimes asking his own questions about upcoming story lines, including whether a marriage between the two main characters would take place this season—the answer is yes!
One of the moments that Murphy is most excited about is an upcoming scene using John Lennon's "Beautiful Boy."  The production team actually reached out to Yoko Ono to get the rights to use the song during a scene with no dialogue.  Although Adler was worried that Murphy was giving away too much, he did reveal that the rest of the season will see a marriage, the baby being born, and "Nene becoming queen of the world!"
Although the series has yet to be picked up for a second season, Murphy is eager to keep telling stories that help show all kinds of families, making The New Normal truly revolutionary.