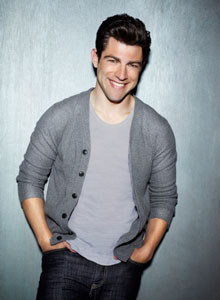 Max Greenfield, who plays king of the slimeballs Schmidt on FOX's New Girl, is not at all worried about typecasting.
"I don't think anybody was ever gonna put me in like Winter's Bone anyway," he said in an interview with The Poughkeepsie Journal.  "You know what I mean?  I don't think like if they were making a very dramatic, serious movie, they were gonna think, 'You know, I really like Max Greenfield, but Schmidt is just…it's too much of a THING to put him in that movie.
"I don't think they're trying to put me in Saving Private Ryan.  'We're looking for Ryan.' [Pauses.]  Is that Schmidt?'  I'm fine.  I'm getting to do everything I want to do on this show."
Initially, when the show premiered in 2011, Greenfield was concerned about alienating viewers with his portrayal of Schmidt (who literally has to make contributions to a 'Douche Jar' whenever he says something inappropriate.)
"I thought, 'There's a good chance that I'll never work again after this.'  I mean, we've played him in such a way that this could go terribly wrong, and then we started to air and the response was so positive," the 32-year-old said.  "It kind of affirmed all the things that the writers were doing, all the things that I was doing.  I think it said to everyone, 'We're on the same page.  We can keep moving forward.'  And then they just went crazy with it."
New Girl airs on FOX, Tuesdays at 9 p.m.