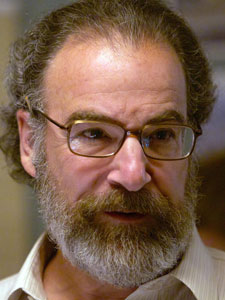 Mandy Patinkin isn't holding back his opinion about his time on the CBS drama, Criminal Minds.
"The biggest public mistake I ever made was that I chose to do Criminal Minds in the first place," he said in an interview with New York Magazine.  "I thought it was something very different.  I never thought they were going to kill and rape all these women every night, every day, week after week, year after year.  It was very destructive to my soul and my personality.  After that, I didn't think I would get to work in television again."
Patinkin has since appeared on Showtime's hit show, Homeland as Saul Berenson.  "I'm not making a judgment on the taste [of people who watch crime procedurals]," the actor said.  "But I'm concerned about the effect it has.  Audiences all over the world use this programming as their bedtime story.  This isn't what you need to be dreaming about.  A show like Homeland is the antidote.  It asks why there's a need for violence in the first place."
Homeland offers audiences plenty of twists and turns, but Patinkin doesn't want to know any more than the viewers.  "I don't know what's going to happen five seconds from now, so why should Saul?" the actor said.  "As an actor, I play the scene the same way whether he's bad or good.  My inner motivation is to make the world a better place; the bad guy and the good guy think the same thing."
The new season of Homeland airs on Showtime, September 30 at 10 p.m.