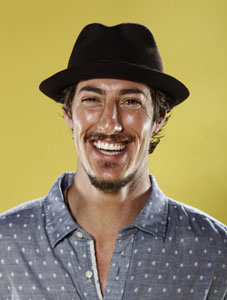 SyFy's Haven sci-fi television series — which just started its second season this month –has been gaining fans even outside the typical Stephen King fan (the series is a loose adaptation of King's novel, The Colorado Kid).  One of the reasons for this popularity of the shows is the shady Duke Crocker, played by Eric Balfour.  Balfour chatted with The Wall Street Journal about getting into character in a show that has a shorter season than the average network television series, and therefore less screen time.
Balfour explains that at first he didn't have much input on the character, but after he became comfortable in the role he begin to help the writers craft the characters now. "In season one, we didn't really know either. We were learning as we went. But as that season went on, we started taking our roles very seriously. We really care about them. The writers do allow us to [alter] them when the character feels incorrect."  Surprisingly, Balfour says he prefers the show's 13-episode season (standard for cable series) rather than a longer network season even though it adds pressure, pointing out, "The problem with a 22-episode season like with a network show, you have a lot of space to fill. You have to hold things back. Whereas, with 13-episodes, something has to happen every week. You don't have room for a clunker and that's the stressful part. We all really feel the pressure. When we read a script that's not as good as it could be, it's very frustrating because we're the last line of defense. We're the ones about to perform it and there's nothing else we can do."
Haven airs Fridays on SyFy Network.