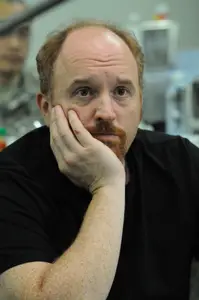 Comedian Louis C.K. won an Emmy as part of the writing staff of The Chris Rock Show back in 1999, and though he's been nominated for several since he has come up empty handed. 
This year he has his best chance at getting another after receiving seven nominations: three as an actor, writer, and director of his FX series Louie, and four for writing, directing and editing his comedy special Live at the Beacon Theater (with another nomination for Outstanding Special Class Program for the special).
While Louis C.K.'s name might appear on all of the nominations, he is quick to point out that working on Louie is a collaborative experience, saying, "I think the directing nomination, I can share that with the whole show, because the directing is a culmination of people — you can't direct by yourself. You can write something and if people [mess] it up, it can still be good. And the same with acting — you can act well on a [lousy] show. But if everybody working on the show isn't great, the director can't fix it."
When asked about his plans in regard to Season 4 of Louie, Louis C.K. indicates that it's not something he can even think about right now.  He explains, "No, I can't, because I'm still editing Season 3. There's a still a tremendous amount of work to do. I have a crazy amount of different jobs, so the way I manage that is to not do more than one at a time. It's like old computers that had small memory chips, they would do something called swapping, where they would fill the memory with one task, do it and get it out. I'm not thinking about anything right now except the editing of the show. I'll purposely avoid thoughts of Season 4 until later. That's seriously how you have to handle it, because I'm really burnt on the show. Right now I'm doing stand-up more, and during the last quarter of the year I've stayed offstage almost completely and not thought about jokes. You have to discipline yourself and say, don't think about stand-up comedy or jokes."
via The New York Times.  The third season of Louie airs on Thursdays on FX.