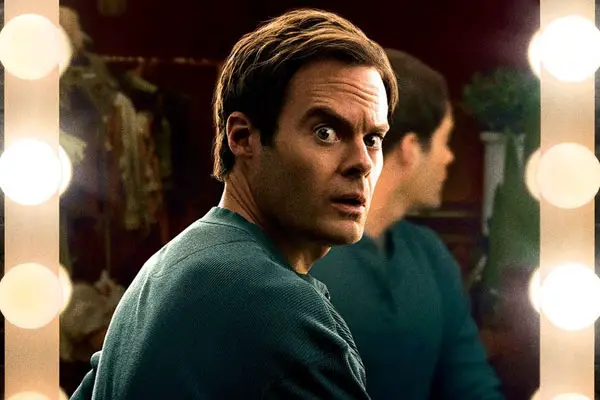 "When I went to the Sundance screening of The Skeleton Twins it was the first time I said, 'Wow, I'm an actor.'" – Bill Hader
One of the most recent Saturday Night Live success stories is Bill Hader, who is currently starring in the idiosyncratic HBO series Barry, which Hader also co-created. It's the latest success for Hader, who has moved from bit parts in comedy films to lead roles. Speaking with GQ, Hader talks about the downsides of being on SNL, and when he finally looked at himself as an actor.
Like many veterans of Saturday Night Live, Hader admits that the pressure of the show was hard to handle. He explains, "I love the people there, but doing that show was really hard for me. It was this funny thing of being trapped by this thing that was hurting you. I had to go to a therapist and do meditation—all these things to try to calm my nerves. It was becoming really detrimental for my performing.
Getting into more detail, Hader points out exactly why the week-to-week grind of SNL is so difficult He says, "SNL took all the romanticism out of writing and acting and being an artist. It was like, 'We go on at 11:30. Come on guys, we gotta go.' I couldn't wait for the muse to come to me. That's not the way it works."
Hader's outlook on acting changed when he watched himself in his breakthrough dramatic role in The Skeleton Twins. He recalls, "When I went to the Sundance screening of The Skeleton Twins it was the first time I said, 'Wow, I'm an actor.' I didn't feel like an actor, I felt like someone who wrote things and then would go, 'Well I guess I'll play that guy in the story.'"
That role gave him the confidence to look at himself as an actor. He says, "I had acted in movies. I'd been on SNL. Then I did The Skeleton Twins, and I was like, 'I guess I'm an actor.' Because Sundance said, 'You're a good actor.' And I wish now that I hadn't waited that long, because I think my work would have been better. I was so trepidatious. I was afraid of failing, and you have voices in your head that aren't you. And you have to work through that. It's easy to go, 'Fuck that!' And you just have to move forward with it and take a risk. Barry took a big risk… But I didn't see it as that, I just got excited about a story, and then I saw very clearly how it should be done, and that was it. It was that simple."