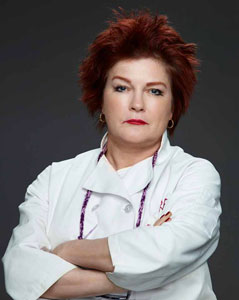 Kate Mulgrew, of Star Trek: Voyager fame, went through a complete transformation for her role as Red on the Netflix series, Orange is the New Black.  Even Mulgrew has been caught off guard by her new look.
"I have to tell you that I myself am rather surprised, because I don't look like that at all in life," she said in an interview with Vulture.  "And that leads me to believe only one thing, and that is that Red must reside within me.  Otherwise, it wouldn't work.  The hair, the chef's jacket, the red lipstick, the eyes, all of that.  The character has to live within, and that's what the transformation is all about.  I think, I hope.  I don't think that my boyfriend thinks I look like that."
The actress wasn't completely gung ho about the changes at first.  "There was that momentary hesitation, which is merely the hesitation of vanity.  I mean, I had long, light brown, lovely hair, and Jenji [Kohan, the show-runner] said you gotta cut that," Mulgrew remembered.  "I said okay.  So I went with the hairdresser and we did it in increments, and every time I trudged back up the hill [on set to ask Kohan], she just gave me a thumbs down: shorter, shorter.  So I finally said, 'Just cut it, spike it, let's go magenta, let's just go.'"
Her physical appearance wasn't the only aspect Mulgrew had to change in order to play Red.  The actress also had to perfect a Russian accent.  "In the audition, it said a light Russian accent.  So I did some studying of the accent and it's almost an oxymoron, a light Russian accent, because the accent itself is so deep in the throat," she said.  "Anyway, it just emerged like this, and nobody said a thing."
Sometimes the accent becomes a part of Mulgrew.  "When I get to work, that's it.  It's very off-putting.  One woman said to me at the premiere, 'I didn't approach you for six months because you were scaring me.  I thought, 'Is she really Russian?  Kate Mulgrew?   I've heard her, I know she was the captain on Star Trek, but she had a nice accent for that one!'" she recalled.  "So when I get to work I turn it on, because I have to stay there."
Despite the challenges of the role, Mulgrew is enjoying the boost it's giving her career.
"It is fun.  The whole idea of this character, you can imagine—I'm an actress of a certain age, right?  I'm a middle-aged woman, and to find this kind of a role and encounter this kind of an opportunity at this stage in the game is both mysterious and magical," she said.  "I'm happy, I'm really, deeply happy about it."
Orange Is the New Black can be seen on Netflix Streaming.