Kate Mulgrew is probably best known to as Captain Janeway on Star Trek: Voyager, but did you also know that she's a true theater lover who starred in the Broadway revival of Equus? Along with that and her impressive TV work (Mrs. Columbo, Ryan's Hope, Mercy) she's also a sought after voice over artist that's been featured in cartoons and video games.
She's currently starring on SyFy's Warehouse 13 for a 4-episode guest arc and is a series-regular on Adult Swim's NTSF:SD:SUV::, a send-up of CSI/NCIS/24-type shows written by comedian Paul Scheer.
I talked to Kate in a conference call where she was absolutely wonderful. She discussed her work on Warehouse 13, the ending to Star Trek: Voyager, her career advice to actors and what playwright she would love to tackle in theater.
Warehouse 13 air on SyFy, Mondays at 9/8c
NTSF:SD:SUV:: airs on Adult Swim, Thursdays at 12:15 ET/PT
For the full interview, click onto the audio link above or download from iTunes
Going back – let's say if we went back to the beginning of your career; Shakespeare on stage, Ryan's Hope, of course Voyager, and now  the comedy and action sci-fi — I mean would that surprise you?
Kate Mulgrew: It would surprise me. I mean you're asking me, if I had looked into that crystal ball when I was 18 years old?
I saw myself as, of course, the next Sarah Bernhardt or the – preferably the next Eleonora Duse. I thought I was going to be a very, very strictly legit dramatic actress.
And the beauty of life is that we don't have a crystal ball. We'd all shoot ourselves I think if we did. It unfolded in a mysterious, unexpected, and in many ways a remarkable way. I think I've been blessed with, one could argue, three iconic roles.
I think Mary Ryan, to start a career playing an iconic role is a great blessing. And the fact that she developed into these other characters was a further enhancement. So I think I've had the career I was meant to have. I certainly loved to act every inch and step of the way.
And if I may say this for posterity, I'm having more fun now than I ever have before. You shed a lot of stuff at my age. And when you're younger the ambition I think is probably one of the key ingredients. And when you're older, the key ingredient is simply joy. So that's where I am right now.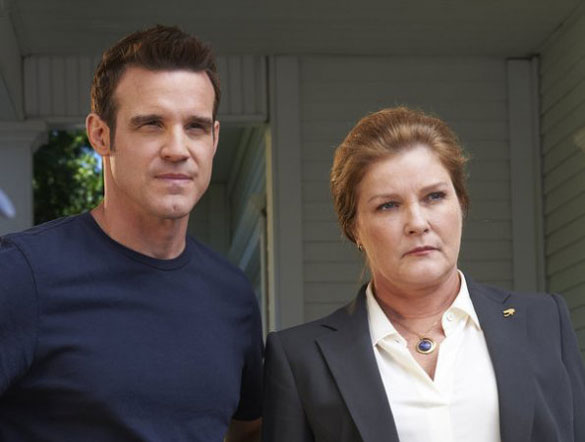 In the sense that you are a bona fide sci-fi legend, when you get sci-fi roles offered to you, does it give you pause? What sort of is your mentality now when you get offered these sci-fi parts?
Kate Mulgrew: I don't get offered these sci-fi parts. This was the first one. And I was delighted to take it because it was not only so well written, but it was – it felt different to me Joshua. It felt special, and it felt light and smart. And that's what I want.
It didn't carry with it the baggage of some other science fiction shows. It has a real delicacy to it, and at the same time I think it's, as someone had said before, a well-oiled machine, yes, but it's still a very sleek and well run machine.
What are you looking for in a part these days? Do you like them being lighter and smarter and not quite so dark?
Kate Mulgrew: Absolutely. And by lighter I don't mean silly or dismissive or even cavalier. I mean that there could be depths, great depths to a lightness. But the lightness is just the actor's personal ability to let go of unnecessary baggage such as nerves, a fear of landing the wrong way on a line, all of that. All of that is dispelled and all of that is gone. And on Warehouse 13 it was just like, it was like sprinting. It was like flying. It was just fun — great fun.
When Voyager first started, not only were you the first female Captain lead, but you were also on a ship that wasn't called Enterprise. Were you nervous that the fans weren't going to accept you or the show?
Kate Mulgrew: My ship was called Voyager, which was the best possible name for any ship; right?
Was I nervous? I'm sure I was nervous, only insofar as I was the first woman. I know that the expectations were very high, if not in fact unreasonably high. I knew that there was a great deal of money riding on this. It was a seven-year franchise and I knew that they were watching me very, very, very carefully.
So having understood all that and embraced all of that, I just said to myself, "What the hell, I'm going for it." And you know, it stood me in good stead because I had not been familiar with Star Trek, I didn't know anything about it. So I was literally just sort of blown out of a cannon. And that's the way to do – start something of that magnitude.
And on the flip side of it, were you satisfied with the way Voyager ended?
Kate Mulgrew: You know, with this kind of an ardent and devoted fan base, you can't please everybody.
And having said that I will tell you that, I had a very, very active and significant hand in Endgame; I liked it, I helped compose it, I helped sort of decide what the ending should be. And I think that there was no more graceful or passionate way to say goodbye than to have the Admiral die and the Captain go on.
I was reading about some of your theater, and you have quite an extensive and amazing theater background. I was wondering if you ever plan on going back to theater?
Kate Mulgrew: I never stop doing the theater. The television is obviously what one learns about more quickly. But I live in New York and I'm always doing something.
Last year I played Cleopatra in Antony and Cleopatra and it was a dream that I had longed to do for many, many years. So I've always got my finger in a lot of pots, theatrically in New York.
You've always in these positions = you're a woman in power and authority and you can command respect.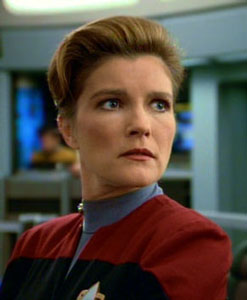 But you always have come across, even when it's – whether it's drama with Star Trek or even comedy, you don't come across as a like a stone, or a one-dimensional, barking orders at everybody, you still remain…
Kate Mulgrew: Human.
Has that been something that you've had to really focus on and try for or does it come natural for you?
Kate Mulgrew: No, I would hope against hope that that comes naturally. I'm the oldest of eight children, I'm the oldest girl. I have one older brother. So I have a natural bossiness. But I also have great love. So if that's what's translating, then I'm very, very pleased.
That's what the audience is attracted to. I don't want to be Patton, that's not the point. The point is to have an inherent sense of command and humanity well married. And as I've achieved that then I've done what I intended to do.
Not many people know, or may not know, that aside from acting in the theater and television, you do a lot of voice acting for video games. Do you enjoy that?
Kate Mulgrew: I love it. It's a pleasure. It's a pleasure because it's so easy; there's no camera, I don't have to get camera ready, I don't have to be on point that way. I'm in a booth with the engineer and the producer and the mic. And it's freedom. It's freedom and I get to use my voice, which I like to play around with. And it's just great, great, great fun.
You've had such a really great career. What advice would give to your 18 year old actor self just starting out?
Kate Mulgrew: Find what you love within the field of acting and honor it because discipline in my life has been everything. I was really lucky to find what I loved at the age of I would say 12 when I knew, 16 when I really started to break out, and 19 when I became professional.
But once you find what you love you must honor it with the discipline. And that's where a lot of people fall down. Nothing comes to you — it is a real act of faith in one's self. And if you don't have the confidence in yourself pretend that you do. That goes a long way.
But never be late, never be sorry — no apologies, no complaints. Know what you're about and do it as well as you can.
Passion is everything.
What was your first professional job?
Kate Mulgrew: Simultaneously I made my stage debut and my television debut. I played the part of Emily in Our Town at the American Shakespeare Festival in Stratford, Connecticut, which was just terrific, and Mary Ryan on Ryan's Hope, which was a soap opera on ABC, but it was a very unusual serial written by Claire Labine. And I would say that, Mary Ryan really kicked me off to the races.
And then you mentioned theater; are there any parts that you're kind of itching to play?
Kate Mulgrew: Well I just played Cleopatra and I was really itching to play her. And I'm glad I did because you have to play her, when you can still walk and talk at the same time.
Chekhov is still eluding me, and I don't know why. I've begged everybody, I will play any Chekhov.
I'm about to play (Izigenia) in (The Millionairess) in New York, which will be fun. And there's a new play by (Jenny Schwartz) which I'm very interested in. I've done about four workshops for that, so I hope that we can get that to Broadway next season.