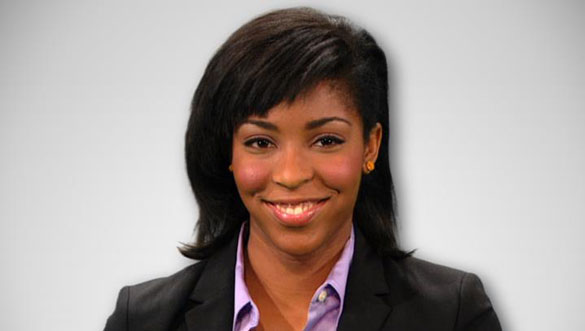 While much has been made about Saturday Night Live finally hiring a black female comedian after Maya Rudolph's 2007 departure, little fanfare occurred when Jessica Williams joined The Daily Show with Jon Stewart as a correspondent in 2012. The former star of Nickelodeon's Just for Kicks talked to Mother Jones about the show and her thoughts on women in comedy.
She explained how the audition for the Comedy Central show came about.
"Allison Jones, a big casting director out there, was like, 'They're casting The Daily Show right now—you should submit a tape.' I remember leaving school to go shoot an audition. I thought I did terribly. I remember driving back to school, being like, 'Stupid, stupid, stupid!' But then I got a call a couple days later: 'Hey, Jon Stewart saw your tape. He wants to fly you out to New York to audition.' So my mom took me to go get a suit from TJ Maxx, and I showed up for my audition with green hair." she said. "I was really nervous and I ran my lines a million and one times. They were finally like, 'Okay, Jon's ready to come down now.' The first thing I heard was him singing. That was really cool, because it made me feel very welcome and warm and safe—that this person who is legendary in my eyes is a normal human being. I kind of knew walking away that I did really well. They called me two days later and were like, 'Hey, they want you to move to New York.' I was like, 'I have to finish my finals!'
So did she finish  those finals?
Williams admitted, "Barely, girl. I got by by the skin of my teeth because I just didn't give a shit. It was stressful to work on this, like, astronomy lab when I know I'm going to be living in New York by myself for the first time and on The Daily Show in a week. So I got a lot of Cs."
The 23-year-old actress also has a role on the third season of Girls. She shared how she wound up on the show as Karen, an employee at Hannah's new job.
"I've known Lena [Dunham] for a while, and we had been talking about it. This third season it really worked out, because I lived here. I remember waking up in my apartment in Williamsburg and just walking across the street to go to the set for Girls. It was the best," she said.
With two great roles in television, Williams is encouraged by the opportunities for women in comedy these days.
The young star summed up, "Some of the best comedies now are led by women who are very involved: Parks and Recreation. Veep's incredible. I love Girls. There is more of a demand, especially on the internet and on Tumblr and Twitter, from women who are like, 'We want to see more of us on TV!'"