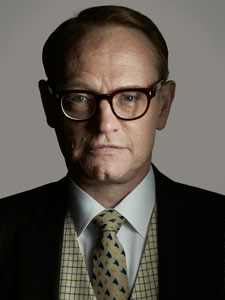 In an interview with AMCtv.com, Jared Harris, who plays the stoic Brit Lane Pryce on AMC's Mad Men, shared his experiences acting on the hit show. 
First, shooting the group scenes in the office is harder than the audience would expect.  He said, "They're great fun except for the conference room scenes.  It's just a pain in the ass to shoot around that table.  You have to get sight-lines correct and then you have to figure out who's on the right and who's on the left.  It's really, really complicated to do and it takes a phenomenal amount of time."
However, Harris is enjoying playing Pryce.  He said, "For me, the pressure that's created from holding all that stuff back, it's something that really pays off on camera because you're not having to hit the back of a hundred-seat house.  The camera is right there and can capture all the internal conflicts of having to behave in that way."
Harris credits his acting success with his training in the British theater.  He said, "Moving outside of your comfort zone is one thing I learned from my training as an actor in England…[English drama schools] put you in as many different plays as they can and you figure out which ones you have a natural affinity to and which ones you don't, and why people succeed in the ones you don't.  Then you go to the pub with your classmates and you ask them, 'How did you figure that out?'"
Although Harris has played such diverse roles as John Lennon and Andy Warhol, he thinks his classmates might be surprised to see him playing Pryce.  He said, "The principal at my drama school said I would never be able to play a part like [Lane]…I had a problem in my mind about these guys, that they sort of had no balls and they weren't real people.  He said, 'Unless you're going to treat these people as being real people, then you'll never really play them.'"
Mad Men airs on AMC, Sunday nights at 10 PM.