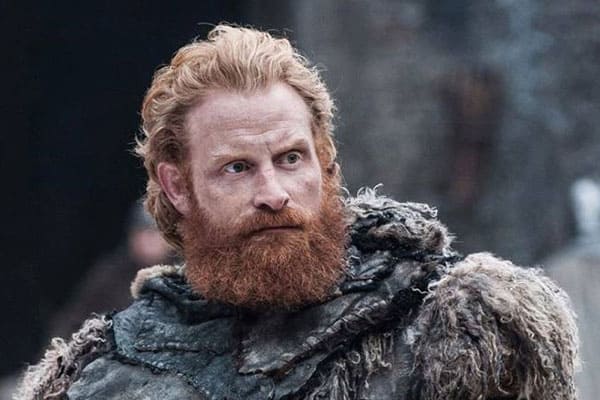 "So the first thing I did when I got the part was to read what old fans of the books and the show thought about him.  How they perceived him." – Kristofer Hivju
So many actors can credit Game of Thrones as their breakthrough acting role. Norwegian actor Kristofer Hivju is one of them, and spoke to Gothamist about his five-season run on the HBO fantasy series as the wildling Tormund Giantsbane.
Though Hivju was a fan of the television series already, he was not familiar with the Tormund Giantsbane character when he was cast in the role because he hadn't read the books. However, he knew that show creators David Benioff and D. B. Weiss were interpreting author George R. R. Martin's books in their own way. He explains:
I had seen the two first seasons of the show. So I knew about the show, and I loved the show, but I hadn't read the books. So the first thing I did when I got the part was to read what old fans of the books and the show thought about him.  How they perceived him.

So I was scanning the internet for things about Tormund Giantsbane, and I found like jokes and highlights from the books. I found fan art of what they thought he looked like and stuff like that. So that was where I started out, finding out, what do [fans]expect? And then of course I read the books and I found out everything I could about Tormund. I was very definite about how the books are the books and the show is the show, so I knew that David and Dan would change stuff from the books, the Tormund that George R. R. Martin created. So I got the background and then I just tried to learn more about the Freefolk and the culture, because that's where it comes from.
Of course, one of the fan-favorite relationships on the series is between Tormund and Gwendoline Christie's Brienne of Tarth, something that Hivju developed based on his interpretation of author George R. R. Martin's text. He recalls:
Well, I thought it was on the page, because it said something like, "Brienne of Tarth enters Castle Black and Tormund looks at her deeply fascinated" or something like that. And I think I interpreted a bit more into the word fascinated, because in Norwegian that's a huge thing, to be fascinated. And so I felt like, I went all-in from the first take, like 'Wow! Look at that! That's a woman!' She's a warrior, and you know, in the Freefolk's world and culture, all the women were warriors, so for him that was like, 'Finally a real woman coming around.'

And then it developed into a scene where there was a meeting with Jon and Ed and we were sitting at the table, and I was eating this big chunk of meat. I didn't have any lines that day, so I only focused on trying to flirt while eating the meat. And David and Dan said that they didn't have this really planned out, but I don't really know because they are clever guys. So I just played around with it and followed that path, because you know when there's so much war and so much violence and death is around the corner, it's nice to put your hope into something.