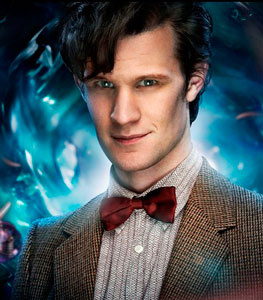 Fans of Doctor Who are still trying to cope with the idea that beloved actor Matt Smith has quit the television show.  But it should make devotees feel better that it wasn't an easy decision for Smith to make.
"Sometimes you think, 'Now is the time.' To be honest with you, it was something I was considering for a while," he said in an interview with Vulture.  "I talked to Steven [Moffat, series boss] about it, I talked to my family about it.  I don't know really.  It was a very hard decision to come to because it's such a wonderful show and I love making it so much.  But also, part of the value of the show is leaving at the right time and allowing someone else to take over.  That re-galvanizes it in a way as well.  Who knows if it's wrong or right?  I guess I'll know in a year's time when I'm unemployed somewhere."
Smith, who's starred as the title character since 2010, remembers his first audition clearly.  "Steven wants to release it online.  He asked me the other day, 'Do you mind if I did?'  And I said, 'I don't.'  I've never seen it," he admitted.  "I was wearing a stripy top and a tweed blazer, and there was a goldfish in the room, and I got in and sort of looked at the goldfish in attempt to look sort of breezy and at ease.  I started randomly talking about the goldfish.  I was doing the scene with Amy Pond when the Doctor wakes up in 'The Eleventh Hour' and she gasps and he's like, 'IT'S YOU!'"
As to who will step in to play Doctor Who, Smith stated that he could imagine a female Doctor.
"It's absolutely feasible," he said.  "I don't see why not.  As long as it's the best actor or actress or fish or otter, it doesn't matter."