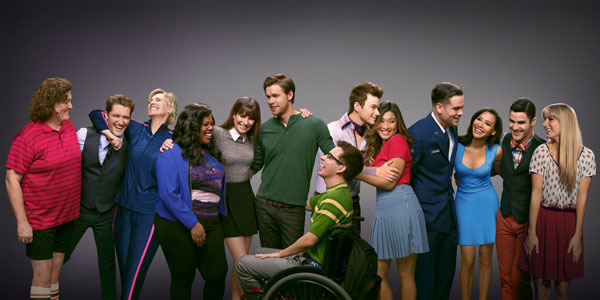 After six seasons, one hundred and twenty one episodes and more than seven hundred musical numbers, Glee has taken its final bow in an emotional two hour double bill.
The first episode, 2009, took us back to the time of the pilot, and gave more of an insight into why these characters auditioned for the Glee club in the first place. The episode ended with the New Directions first performance of Don't Stop Believing, featuring the late Cory Monteith. 
Monteith was further remembered in the finale, Dreams Come True, which took us five years into the future to see how the New Directions alumni have fared. Rachel won a Tony, and gave her acceptance speech heavily pregnant with Kurt and Blaine's baby, and they are both now successful Broadway performers while championing LGBTQ rights. Mercedes became a world class singer, Tina and Artie had a film entered into a festival and Will became Principal of McKinley High School for the Arts. The show ended with Sue Sylvester, terrifyingly now Vice-President, rededicating the school's auditorium as the Finn Hudson Auditorium with the tag line "See the world not as it is, but as it should be." A fitting end to what was an inspirational show, but what of the cast themselves?
Many have already confirmed or even started on their future career plans already, including Matthew Morrison, who has returned to his Broadway roots to star as J.M Barrie in Finding Neverland which has just started previews at the Lunt-Fontanne Theatre. Opening night will be April 15.
Hot on his heels, and also bound for the Great White Way, will be Darren Criss, who will fill the stiletto heeled boots of Hedwig for a three month spell in Hedwig and the Angry Inch from April 29. His stint is bound to prove a huge hit, with many performances already sold out. Current Hedwig and director of the show, John Cameron Mitchell, is also excited for Criss' debut, who will be the youngest actor to take on the role to date.
"I really want to be there for Darren Criss, who is incredibly motivated and hardworking and so excited about this," he tells Broadway.com.  "I want to rewrite some new stuff for him—just for him."
Other Glee alumni are preparing to stay on our screens, both big and small. Lea Michele is staying firmly under the wing of Glee showrunner Ryan Murphy and graduating to his latest TV venture, Scream Queens, billed as a comedy horror to air on Fox this Fall. Kevin McHale is currently in the UK to film a second series of his panel show, Virtually Famous and Chris Colfer will be filming Noel, in which he will portray celebrated playwright, Noel Coward.
Colfer will also continue to release his children's books, the fourth instalment of his Land of Stories series will arrive this summer and a younger children's picture book, The Curvy Tree, will follow in October.
For most of the regular stars of the show, the initial future looks bright. It will be interesting to see how their careers progress from here on in, whether they will continue to shine as brightly. Certainly Morrison has the theatrical talent to be in continuous work on Broadway if he so chooses, and Criss, I am sure, could also have his pick of roles. Whether he will decide on a change of direction and give fans an album of original work one day, remains to be seen, but my preference would be for him to stick to the stage.
Other Glee stars now focusing on the future include the current crop of 'newbies,' who were introduced in this shortened last season and proved to be a huge hit with viewers. It's easy to see why. For a start, they all possessed an abundance of talent and for most it was their first TV outing; for some it was their first ever acting gig.
Noah Guthrie was already a YouTube sensation; his powerful and deeply soulful singing voice transferred well onto the screen and viewers have adored his character of Roderick, the shy, awkward teen with a voice like velvet. I am fervently hoping that we will hear a lot more of him, because he has a voice that needs to be heard.
Billy Lewis Jr. and Laura Dreyfuss have also brought a lot of joy as twins Mason and Madison McCarthy. Both are seasoned theatre performers, having worked together in the touring production of Hair, and Dreyfuss also starred as Girl in Once on Broadway. Dreyfuss says she has an exciting project lined up while Lewis, who also makes his own music, is heading back to New York to find a show to make his Broadway debut in.
Whatever the future may have in store for its stars, it was certainly a heartfelt farewell to a show that has spent six years on our screens. Sure, it's not what it once was, and its ratings (and writing) dropped, but it was also an innovative show and a great champion for the underdog. It never shied away from bringing us ground breaking storylines, most specifically surrounding the show's LGTBQ characters, and it gave us a double gay wedding as well as a transgender storyline in its final season alone. Glee will certainly be missed.