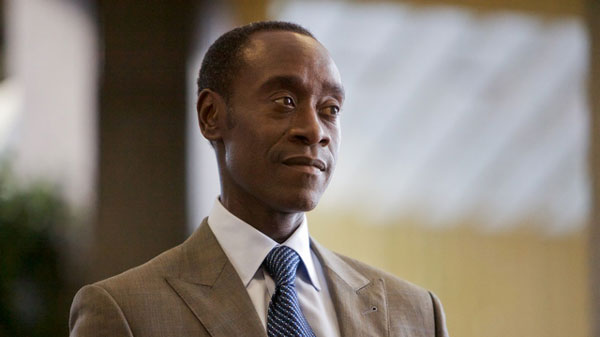 Don Cheadle is an actor's actor. He comes in quietly, does consistently excellent work and then retreats back to his private life. His next project is one that he's wanted to do for years, Miles Ahead, about the life of musician Miles Davis. Cheadle is writing, starring and directing the film.
The 49-year-old actor spoke with NPR News on the Tell Me More show about his success and why he became an actor.
Cheadle said, "I was told by relatives – you know, aunts and uncles that – you know, I remember going home for a funeral of one of my cousins that I really didn't know very well. And someone came up to me and said hey, you did it. And I was like – I did it? She goes yeah, you used to say when you were 5, 6 years old running around here that you wanted to be an actor. I said, I did (laughing)? She said yeah, you used to say that. So I guess it was something that was in my mind very early. I know that I got very serious about it once I graduated from high school. I had a few choices – to either pursue acting or to pursue music. And I think I really looked at what it would take to really commit to being a musician – the work and the kind of commitment to that- and realized that I was not ready for that."
Even though the Hotel Rwanda star has had tremendous success since the 1980s, he never feels like he has officially arrived. He always has his actor hustle on.
"What we all know in this business is that you don't really retire from it, it sort of retires you. That usually happens for people when they hadn't anticipated it. So I don't think it's going to be any different for me," he said. "I feel very fortunate and blessed to be a part of projects that have meant a lot to me and that people have seemed to – it seems to, you know, hold a special place for people. But I don't ever sit back and think that I can just chill out and that I don't have any more work to do. I always feel like I'm grinding. And I always feel like I'm trying to – to make sure that I am continuing to push it and push myself into new places and be as elastic as I can as an actor."
However, Cheadle has taken an interesting approach to his career, he has turned down projects that just weren't the right fit. It's a strategy that has paid off for him.
He explained, "The only power that we have as actors in this business – I mean, unless somehow you're financing the piece that you're a part of and are putting it together yourself – we just have the power of no. So it's not that I haven't been offered roles that were just like the last thing I did, I just said I don't want to do it. I just said no. I was always picky. I was very fortunate because the timing was always such that right when things would be getting kind of threadbare and it was like, dang, I hope something happens, something would happen."
Miles Ahead is currently in production and slated for a 2015 release.