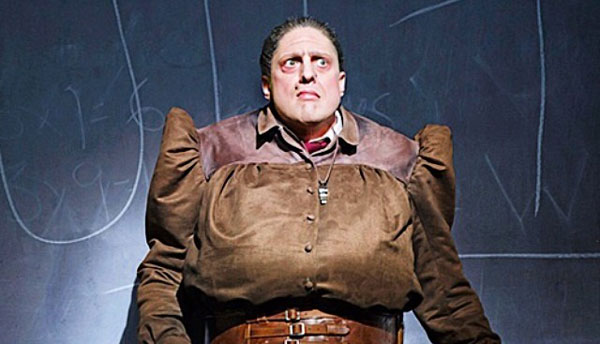 Christopher Sieber has quite a reputation in the Broadway community. It's a good one, but an unusual one. He's become the go-to guy when a show needs a replacement quickly.
Recently, he replaced Tony-nominated Terrence Mann as King Charles in Pippin without having seen the production or even auditioning.
He said, "They were like, 'So can you juggle?' I was like, 'No!' They were like, 'Can you ride a unicycle?' I was like, 'Ha, ha, no!' They asked me 'Can you throw knives?' I was like, 'I will learn.' And I did."
After finishing that run, he stepped into Matilda the Musical as Miss Turnbull, a taxing role that requires him to wear a fat-suit with a vest inside packed with frozen gel to keep him cool during the performance. He's a total trouper.
The Broadway veteran explained the benefits and drawbacks of having such a reliable reputation in the theatre industry, "It's a good and bad thing. It's a great thing because people are like, 'Oh, you know who can go really quickly and do it really well? Christopher Sieber.' But the other side is, 'Oh my God! I have to go in a show in four or five days?' It's a good reputation to have but it also gets dangerous."
He has also learned how to maneuver the pitfalls of going into a show so quickly. Sieber said, "You don't have time to cry. You don't have time to think about anything. You just have to make sure you're out of the way of other people. I don't want to be that guy who inconveniences everybody and is the pain in the butt."
Matilda the Musical is currently running on Broadway at the Shubert Theatre in New York.
Via AP