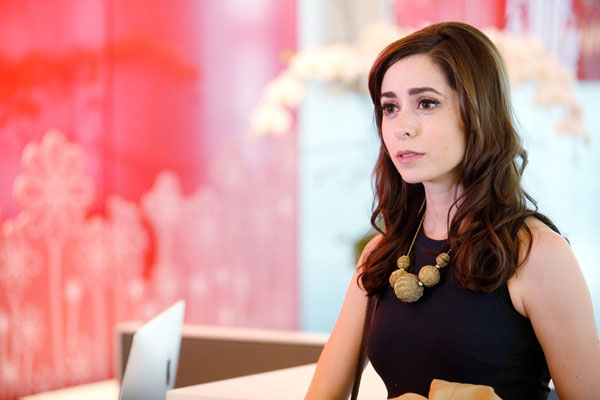 Cristin Milioti wrapped up the final season of How I Met Your Mother and headed over to a new show this season on NBC, A to Z. She explains why she chose to co-star in a series about a couple falling in love after meeting by chance through an internet dating site.
She said, "I'll start by saying I picked it because I really enjoy television immensely. And I like comedy a lot. And I thought it would be really great to try this again, and maybe, if I'm lucky enough to book something. And I loved everyone involved. You got Ben Queen, he's amazing. Rashida Jones. Michael Patrick Jann is our resident director, executive producer. He did Reno 911. And then as the cast came together, it got even more awesome."
Since the series revolves around a relationship, Milioti and co-star Ben Feldman are required to have chemistry on-screen each and every week. She shared how strange that can be, "That is weird. It's weird because I once lost a job because I had a chemistry read with the lead actor and I could tell we had negative chemistry. He was very lovely, but you could tell. We had the chemistry of two chairs. I didn't get it, but it made perfect sense. I've been very lucky that has happened to work out with many gentlemen that I've worked with. But it's weird, you feel kind of like a courtesan."
At the end of the day though, it's just an acting gig.
"I will say that I've always known the second I've met the person that, like, 'Oh, this is gonna be who it is.' And that's crazy. It's usually an immediate ease and a similar sensibility, that you don't feel like you're acting with this person." Milioti explained. "Even when I read with Ben, I felt like, 'Oh, I'm with a friend at a bar.' It didn't feel like I'm in a room full of executives. It's just like when you meet a new friend. You meet the person at a party and you're like, 'Wait a second, you also think that?' or 'You also laugh at poop jokes?'"
A to Z airs on Thursdays on NBC.
Via Vulture