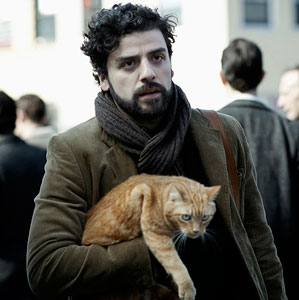 Anyone who has worked with animals on a set or stage will tell you that training a dog for a scene is one thing. Training a cat is another matter entirely — just ask the animal trainers for this year's Broadway production of Breakfast at Tiffany's.  So there were certainly some issues when the Coen brothers decided that a lost cat would play a central role in the plot of Inside Llewyn Davis — in fact, Joel Coen admits that the cat was added to the film to give the movie about a drifting folk musician some "plot."
The three tabbies used to portray Ulysses were trained by Dawn Barkan, who has also handled the animals for Ace Ventura: Pet Detective, Meet the Parents, Runaway Bride, and many others, including this year's The Secret Life of Walter Mitty.  In fact, two of Barkan's own three cats were among the many cats who portrayed Mr. Jinx in Meet the Parents, although the cat that was trained to flush the toliet has since passed.
However, even a veteran like Barkan saw challenges with Inside Llewyn Davis.  She explains, "Much of what was scripted is a scary thing for a cat.  [But the Coens have] worked with animals in just about every film they've done, so they had an idea of what it takes."
The film's three cats — the production started with five, but two were fired for "temperament" issues — were specialized for certain roles during filming.  Tigger was used as the "holding" cat that Oscar Isaac carried around.  Jerry was the "action" cat because he was successful at following directions when treats were offered.  The final cat used was Daryl, who was used during what Barkan calls "hairier situations," like the subway scenes because of Daryl's even temper.  However, Barkan reveals that during one subway scene a nervous Daryl nicked star Oscar Isaac in the face.  She recalls, "For weeks, I said it wasn't a good idea to shoot in a live subway station.  An actor getting scratched, I don't ever want that to happen."
Though Barkan was obviously upset about Isaac getting nicked, she points out that it's part of the job.  She says, "[Actors] can make life easier or more difficult, but they're just a prop. The animals are working for the trainer."
Leave it to an animal trainer to refer to the human actors as the props in a scene, right?
via Vulture