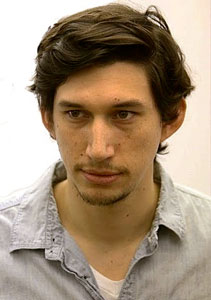 Adam Driver is stepping into new territory after appearing in the Coen brothers latest movie Inside Llewyn Davis. He makes a cameo appearance as a backup singer inside a recording studio alongside Oscar Isaac, who portrays the title role of the folk singer Llewyn, and Justin Timberlake as a Jim Berkey, Davis's guitar-playing rival.
The scene may be short, but the Girls star makes quite an impact on the film with his quirky comedic timing. However, he was working with some musical heavyweights in the film, so Driver did the wise thing and took a step back.
He said, "I think the only good thing I did was surrender control completely to everyone around me, since I felt they were far more qualified. I was just trying to be there and to enact the best version of what they wanted."
The soundtrack was produced by the Oscar-winning musician T-Bone Burnett. Driver did his best to keep from getting intimidated with the company he was keeping.
"I try to approach it like everything else. I think there's something masochistic in actors anyway — they enjoy that feeling like, 'Okay, everything in my body is telling me that I should run away and cry and vomit, but I'm going to suppress all those impulses and try to be focused.' You get some kind of sick pleasure from that," said the HBO star.
Some actors may gain confidence in their personal lives from working in such nerve-wracking situations. However, the 30-year-old actor finds that he enjoys keeping his life a bit edgy.
"Maybe for some people it does, but for me, it doesn't. I feel just as inhibited! That's the good thing about getting to work on things like this in film and theater, that you have an avenue to put all that energy into," he said. "You get to channel those impulses that aren't really appropriate in life."
In fact, he's the type of person who never watches his own work yet the Coen brothers film was an exception.
Driver shared, "I watched Inside Llewyn Davis because I wanted to see the music, but it gets a little absurd. And that's something that I have to figure out, because … take Lincoln. I haven't seen Lincoln."
He hasn't seen Lincoln and you can bet he's never watched more than the pilot of Girls.
"It still hasn't really sunk in that I was in that movie, and there was something about watching it that I'm just not ready for. With Girls, after I saw the pilot, I was like, 'There's no way I can watch the rest of this series, especially if it continues to go on,' because I feel like there's an impulse to try to make it look better or neater or more perfect, and when I watch theater, television, movies, it's always the imperfection I'm always more attracted to. And I feel like with the things I'm in that I have watched, I go into a spiral and obsess about all the mistakes I made," he explained. "Even with the pilot — there are so many mistakes I wish I would have changed, but you know, you just can't. I'll drive myself crazy and the people around me crazy for months, just thinking about it."
The complicated actor finds that some performances still stick with him even though he tries to shake it off as soon as the project is over.
He said, "I'm not sure. Obviously, if I watched them all, I'd be like, 'Oh, fuck.' And you notice habits that you try to break as much as possible. But it's interesting — we had to do additional photography for a movie I did four months after we'd shot it, and I forgot how much that character was a part of my life, because I had lived with him for a long time…I feel like you try to be there as much as possible when you're on set, and then as soon as it's done, you try to divorce yourself from it as quickly as possible."
Inside Llewyn Davis opens nationwide on Dec. 6.
Via Vulture