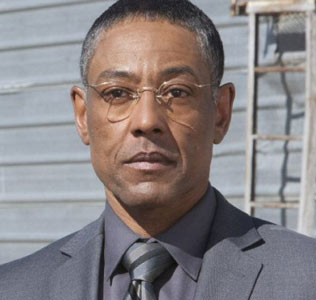 Giancarlo Esposito is finally getting the credit he deserves after his incredible performance as drug kingpin Gustavo Fring on Breaking Bad.  The actor has been nominated for an Emmy for his role.
The part on the AMC drama came at the perfect time for Esposito.  "I've always wanted to work on a character where it felt a little bit more like Waiting for Godot, where there was space and time in between what I was able to say," Esposito told Arts Beat.  "It was an intentional choice I made, to really play Gus close to the vest, allow him to speak more with his actions and his eyes than his words.  It was an exercise in being calm and relaxed, and that translated into some powerful work."
The actor didn't know up front what the character of Gus would entail.  He said, "When I first read the script I had no agent at the time.  I only had a manager for directing.  It came to me as a guest spot, maybe one, maybe two [episodes].  I don't think they knew.  When I got out there and I finally read the script, I had said no a few times to my manager, and he said, no, you've got to consider this.  I said, I'm the king of guest spots.  I'm tired of it.  I want a big fat feature or something I can dig my teeth into—a character I can explore and be with for a time.  And when I went out and did the first episode, I got a call as I was deplaning, saying would you come right back and do the finale of Season 2?  And I said yes."
Of course, Esposito didn't know the outcome for Gus.  So, he admits discovering the endgame for the character was disappointing.  "It's always bittersweet, because I felt like I had really created a character that was different," he said.  "Each time I create a role, I don't go to the movies anymore.  I don't watch television.  I want to be original, and with Gus, I made such strong choices.  When Vince [Gilligan, the show runner] proposed it coming to an end, of course it was very, very bittersweet.  All I had asked for was that if we're going to go, let's go big.  Everyone pulled it off in such a beautiful way that I felt great about how it all finished."
Despite the fact that Esposito was waiting for his breakout role, he doesn't express outrage at people ignoring him for so long.  "I don't have any animosity," he said.  "I've done some great work in the past that hasn't been recognized, and it doesn't really matter.  It's really how it all lines up.  Gustavo was deeper for me on a lot of levels.  The time is now, I'm in the present.  It's not like a vindication, I-told-you-so.  It's a renewal for me.  Maybe they got it right, huh?"
The Emmy's will air September 23.