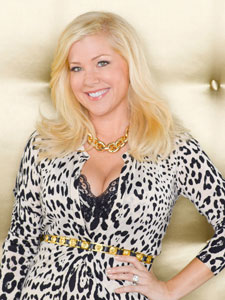 Actress Jennifer Aspen is doing the opposite of what most actresses do in Hollywood—she's actually gaining weight for a role, not losing it. 
Aspen is currently starring in ABC's new show GCB as a former beauty queen named Sharon Peacham.  In an interview with The Hollywood Reporter, Aspen spoke about her willingness to gain weight.  She said, "".  It's crazy to do it.  Nobody is asking me to do it.  But I felt like this was Sharon and this was the right thing to do, and I had to do it.  And it was the first time in the history of my career that I wasn't trying to diet and lose weight and get into Spanx.  And do all that before doing a role, you know?"
The 38 year-old, who has previously had roles on Glee and Party of Five, was fine with gaining weight, but wanted to make sure she had put on a few pounds before being labeled plump. 
She said, "When I got this role I was a size 4.  And I was happy to have the part, because I love Sharon.  She just fits in my heart.  You know this character so much.  But, it was important to me that we don't put a size 4 on television, and say, 'This is the chubby girl.'"
Aspen not only gained weight, she also took extra measures to make Sharon seem more voluptuous.  "I also use padding on the show to enhance my figure to make it even bigger and curvier," she said.  "I don't have to wear Spanx, which was a halleluiah for me.  And I would choose clothes that weren't slimming, still beautiful, but not slimming."
After the show is done shooting, Aspen will most likely go back down to her normal weight.  She said, "Even what I hopefully will be calling my hiatus weight, back to a size 4, you know there are a couple of girls on the show that are smaller than that.  You know, we've got a couple of girls that are a 2 or a 0—or in Kristin [Chenoweth's] case, a Gap Kid's size.  So, I just feel very responsible to my characters, I really do.  I feel like if I don't do what I know is right for them—even if it means my own pride is out the window—then I'm just a complete a-hole."